February 14, 2023
Shorooq Partners invests in Gulf Capital's SANTECHTURE, the Leading HealthTech AI Based Revenue Cycle Management Software Company in Saudi Arabia and the UAE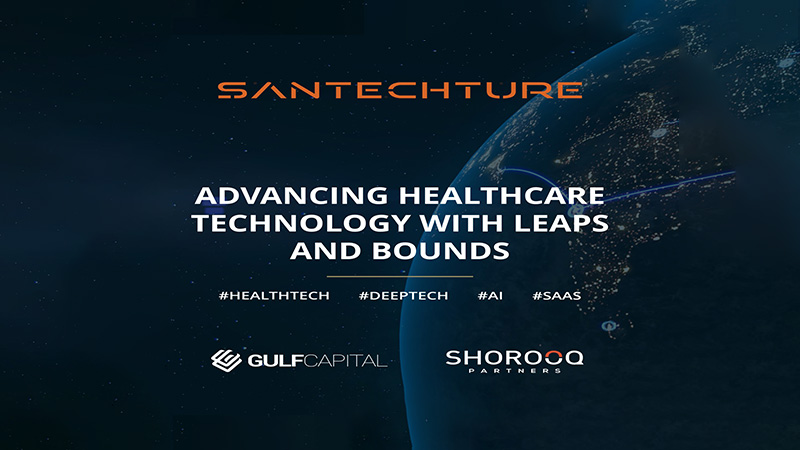 Gulf Capital ("GC"), one of the largest and most active private equity firms investing from the GCC to Southeast Asia and Shorooq Partners, the leading seed stage venture capital firm in the MENAP region with over 60 portfolio companies across Fintech, Software, Platform, and Blockchain, have formed a pioneering partnership to back SANTECHTURE, a cutting-edge HealthTech cloud-based Software as a Service ("SaaS") company. SANTECHTURE aims to revolutionise healthcare in Saudi Arabia and the UAE through its full suite of end-to-end Revenue Cycle Management ("RCM") software solutions. The company leverages the latest advancements in AI and deep technology to offer innovative solutions to healthcare providers, enhancing the overall experience for providers, payers, and patients. 
The strategic and close collaboration between Gulf Capital and Shorooq Partners marks a significant milestone in the development of the technology ecosystem in the Middle East and serves as a strong testament to the maturity of the venture capital and private equity industries. Gulf Capital has a long history of investing in the technology, Fintech and HealthTech sectors and Shorooq Partners brings a wealth of knowledge and expertise in technology investing, spotting emerging trends, and backing founders and startups that have the potential to disrupt established industries. The firms have been working together for some time, and this latest venture is a clear indication of their shared belief in the long-term growth potential of the healthcare and HealthTech industries in the region. 
There has been a growing demand for quality healthcare services across Saudi Arabia and the UAE with increasing emphasis on managing the financial aspects of delivery effectively. The adoption of digital technologies for scalable infrastructure for the healthcare industry has become a clear and growing trend for maturing markets. RCM software and AI tools are paving the way for hospitals and clinics to automate manual processes, reduce potential errors through evidence-based suggestions, and improve overall efficiency. SANTECHTURE is at the forefront of RCM innovation across the GCC region with its innovative SaaS solutions and flagship products ROBIN, THYNK, CODEMINE, and QUBE. 
Anas Batikhi, Founder and CEO of SANTECHTURE, said: "We are excited and thrilled to partner with Gulf Capital and Shorooq Partners, whose expertise, strategic support, and growth capital will further extend our market leadership and ambitious expansion across KSA, UAE and beyond. Our specialised products are revolutionising healthcare technology in the area of Revenue Cycle Management (RCM) by providing artificial intelligence ("AI") powered cloud-based solutions, democratising the adoption of emerging technologies across enterprise and SME healthcare providers, cutting cost, reducing claim rejections, and providing valuable insights towards value-based healthcare."
Shane Shin, Founding Partner at Shorooq Partners said: "Healthcare infrastructure has always been a key area of interest for Shorooq Partners. We believe SANTECHTURE is a unique technology company leveraging DeepTech, AI and proprietary data to solve existing inefficiencies in the healthcare industry across its multiple product offerings, and we are bullish on backing Anas and SANTECHTURE in their early journey to disrupt and dominate the market. Our partnership with Gulf Capital is a landmark one in the region and a powerful vehicle for innovation and growth that will provide SANTECHTURE with the support and resources it needs to drive growth and scalability across Saudi Arabia, UAE, and other markets. The healthcare industry is poised for transformation, and SANTECHTURE, backed by this unique partnership, is at the forefront of that change."
"SANTECHTURE is a true pioneer with unique cloud-based SaaS solutions custom tailored for the GCC region and beyond.  The long and growing list of blue-chip customers in both Saudi Arabia and the UAE is a strong testimony to the effectiveness and appeal of SANTECHTURE's RCM solutions. We are committed to continue supporting SANTECHTURE on its next phase of growth across the region as it scales operations, invests further in DeepTech and AI technologies and expands its innovative software solutions across new segments. We are also thrilled to welcome Shorooq as our newest partner given our shared vision for SANTECHTURE's prospects, its expertise in investing in SaaS platforms and the overall evolution of the healthcare market in our region. Gulf Capital has focused on priority sectors including technology, Fintech, and HealthTech, and this latest investment in SANTECHTURE cements our track record of being one of the most active technology and HealthTech investors in the GCC", added Mohammad Madani, Managing Director at Gulf Capital.