February 16, 2022
GPCA Board Appoints Drew Guff as Chair of the Board of Directors; Otavio Castello Branco and Dr. Karim El Solh Named New Board Members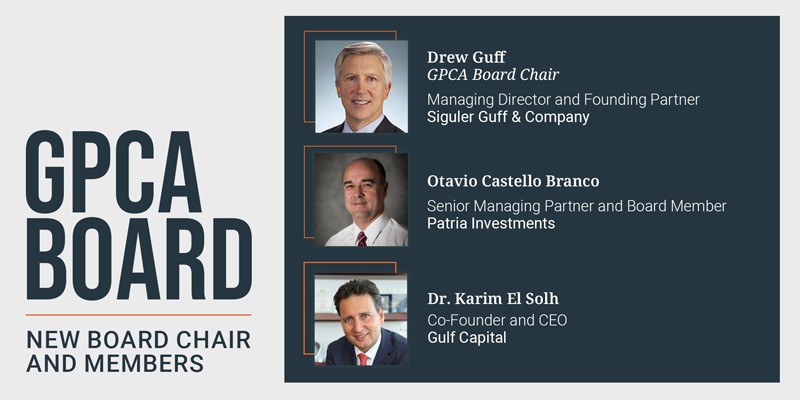 The Global Private Capital Association (GPCA) today announced the appointment of Drew Guff, Managing Director and Founding Partner of Siguler Guff & Company, as Chair of the Board of Directors, along with new Board members Otavio Castello Branco, Senior Managing Partner and Board Member of Patria Investments, and Dr. Karim El Solh, Co-Founder and CEO of Gulf Capital. The GPCA Board also appointed Nicolas Rohatyn, Founder and Chief Executive Officer of The Rohatyn Group (TRG), as Chair Emeritus.
GPCA members are leading investors across Asia, Latin America, Africa, CEE and the Middle East, who collectively manage more than USD2 trillion in assets. The organization's proprietary data and market intelligence highlights forward-looking trends in global investments such as digitalization and energy transition, as well as the societal impact of those investments.
"I am excited to have the leadership of Drew, Otavio and Karim on our Board as private capital investment hits record highs across Asia, Latin America, Africa, CEE and the Middle East," remarked Cate Ambrose, CEO and Board Member of GPCA. "Drew was a founding member of the organization and brings extraordinary experience to the Chair role as a pioneer investor in many of the markets we represent. Patria has an impressive track record in private equity and real assets in Latin America, while Gulf Capital is supporting innovative businesses across the Middle East and Asia."
"I am honored to serve as GPCA's Board Chair and collaborate alongside the organization's distinguished Board of Directors who head many of the most successful global private capital firms in the world," commented Mr. Guff. "It's an important and exciting time for the organization and its members as investment opportunities in Asia, Latin America, Africa, CEE and the Middle East continue to soar."
Mr. Guff will carry forward the important work that began two years ago with the organization's strategic repositioning and rebrand under the leadership of Nick Rohatyn, who will continue to serve the Board in an advisory role as Chair Emeritus.