September 04, 2019
Gulf Related Announces the Official Opening of the Expansion of The Galleria Al Maryah Island
Eat, Play and Shop at Abu Dhabi's newest lifestyle destination   
The Galleria's expansion offers unrivalled shopping, dining and entertainment
Unique art installations pay homage to the culture and heritage of the UAE capital
There are many upcoming events, activations and giveaways for the community
A VIP ribbon-cutting event was held to mark the official opening
Abu Dhabi : The Galleria Al Maryah Island's expansion is now open, and welcomes the community to Abu Dhabi's newest lifestyle destination. The expansion builds on success of The Galleria's Luxury Collection, which has seen year-over-year sales growth every year since opening in 2013. The Galleria Al Maryah Island was developed by Gulf Related.
The expansion will transform entertainment and leisure in the UAE capital with guests being able to Eat at 70 dining venues, Play in multiple forms of entertainment and Shop over 250 international brands all under one roof. The Expansion is over 80% leased with nearly all stores expected to open by the end of the year.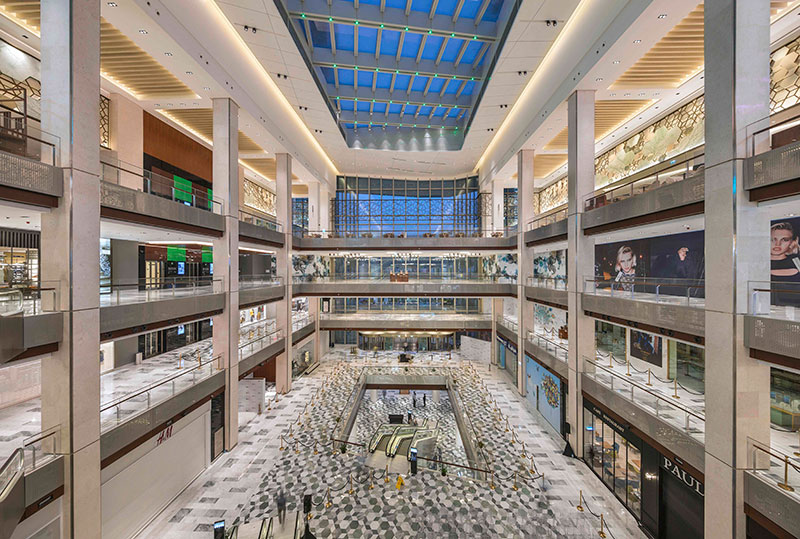 Guests can Eat at 70 new dining venues including Bouchon Bakery, Blaze Pizza, P.F. Chang's and The Cheesecake Factory. The Galleria also introduces Central Kitchens, a unique dining concept designed by acclaimed architect David Rockwell and Rockwell Group.
Families can Play in landscaped urban rooftop parks and at world-class entertainment destinations for all ages, and catch the latest blockbusters at The Galleria's flagship 21-screen VOX Cinema with IMAX. Visitors will also be entertained in destinations such as Xtreme Zone, an Abu Dhabi flagship location.
For the first time in Abu Dhabi, people can Shop the best selection of over 250 international brands and first-to-Abu Dhabi stores such as Missguided and Decathlon. At The Galleria, there is something for everyone to enjoy, every day.
Unique art installations, created exclusively for The Galleria by local and international artists, pay homage to the culture and heritage of Abu Dhabi. Decorating public spaces, artists including Sheikh Firdous, Julia Ibbini, Ahmed Al Zarooni and Soroshi Michelle highlight traditional and ancient arts such as Sadu Weaving and Nabati poetry. Installations also highlight Abu Dhabi's natural landscape, the city's present day multiculturalism and its prosperous future.
A full schedule of activities and events will keep the whole family entertained every weekend from now until The Galleria's first annual Street Party in November. From 5 September, the Abu Dhabi community is invited to take part in a special passport-themed treasure hunt. Participants who complete the treasure hunt adventures can claim an exclusive limited-edition 'The Galleria x Dia'a Allam' gift bag.
Exclusively for The Galleria and coinciding with the opening of the expansion, Charlotte Tilbury unveiled its "NEW! Airbrush Flawless Foundation". It is the brand's biggest launch of the year, and is not available anywhere else in the region for another 10 days. Be the first to get it only at The Galleria.
Exciting events over the next few weeks that will also include The Galleria's "100 Weekend". Visitors will be able to win amazing gifts from some of the world's most popular brands. The community can follow @TheGalleriaUAE on social media for details and a chance to win.
The much-anticipated new shopping, dining and entertainment destination marked the momentous occasion of the opening with a VIP ribbon cutting ceremony. Well-known international television presenter, Rania Ali, welcomed guests, before President and CEO of Related Urban and Co-Managing Partner of Gulf Related, Kenneth Himmel took the stage to speak to the attendees. Dr. Karim El Solh, Co-Managing Partner of Gulf Related and CEO of Gulf Capital, and Daniel Parry, Managing Director of Gulf Related, also expressed appreciation to the vast array of people who came together to make this long-term vision a reality. All three were joined on stage for the ribbon cutting by Kevin Ryan, Chief Operating Officer of Gulf Related and Waleed Al Mokarrab Al Muhairi, Mubadala Deputy Group Chief Executive Officer & Chief Executive Officer, Alternative Investments & Infrastructure.
Daniel Parry, Managing Director of Gulf Related comments, "Today we opened our doors to The Galleria Al Maryah Island's expansion and launched a new era of shopping, dining and entertainment for the capital. This incredible lifestyle destination was developed for the people of Abu Dhabi and caters to every member of the community with a unique offering that includes rooftop parks, entertainment for all ages and the city's best shopping and dining experience. We're excited to welcome the community to eat, play, shop and indulge at The Galleria for generations to come."
Gulf Related is a joint  venture  between Gulf Capital and Related Companies which brings together international mixed use development expertise and local knowledge effectively delivering all aspects of each project from design, construction and leasing to management and marketing.
The Galleria's expansion introduces a first-in-the-region culinary concept Central Kitchens, designed by renowned architect David Rockwell, as well as first-to-Abu Dhabi stores including trendsetting fashion brand Missguided and sporting giant Decathlon. World-class entertainment for all ages, including a flagship Xtreme Zone and the Abu Dhabi flagship 21-screen VOX cinema with IMAX will keep the whole family entertained, with many more renowned brands such as the first Kinokuniya bookstore in Abu Dhabi opening soon. The expansion introduces 250 new brands, including 70 new casual dining options, three levels of world-class entertainment, urban rooftop parks and an exciting line-up of community and seasonal events. All this adds to the established Luxury and Dining Collection, making The Galleria the most exciting retail, entertainment and culinary destination in Abu Dhabi.