August 06, 2017
Gulf Capital Partners with Emirates Wildlife Society in association with WWF (EWS-WWF) and receives the "Dubai Endowment Sign" in "The Year of Giving" in the UAE
Gulf Capital, one of the largest and most active alternative investment firms in the Middle East, announced today a long-term platinum corporate membership with Emirates Wildlife Society in association with WWF (EWS-WWF), a leading local environmental NGO which is committed to protecting the UAE's natural heritage – our climate, seas, land and the biodiversity that lives within it. As a Platinum member, Gulf Capital will support EWS-WWF's initiatives in the UAE, including marine and terrestrial conservation, environmental education, wildlife trade, and climate change and energy.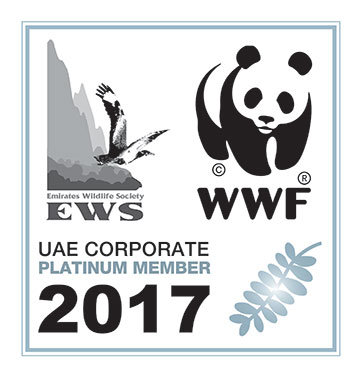 EWS-WWF was established in 2001 under the patronage of His Highness Sheikh Hamdan bin Zayed Al Nahyan out of a need to protect biodiversity in key sites across the emirates, including species and ecosystems of concern in the UAE, and contribute to policy and institutional framework to address environmental issues. Earlier this year, in line with the Year of Giving, the Mohammed Bin Rashid Global Centre for Endowment Consultancy (MBRGCEC) and EWS-WWF launched a first-of-its-kind initiative to support environment through endowment and Gulf Capital have met the criteria to be eligible for the Dubai Endowment Sign.
The environment endowment initiative aims at strengthening public awareness of the importance of environment programmes, and encouraging companies to initiate their corporate social responsibility to support initiatives, studies, and research in the field of environment. Positive participation of the private sector and social figures are expected so as to translate the vision of Sheikh Khalifa which marks 2017 as The Year of Giving in the UAE.
Dr Karim El Solh, Chief Executive officer of Gulf Capital, said: "We are proud to embark on this strategic partnership with EWS-WWF in the 'Year of Giving' in the UAE, to support the country's vision 2030 with regards to sustainability and the environment. This partnership is in line with our Social Responsibility strategy that is built on the pillars of youth, education and entrepreneurship and highlights our commitment to sustainability through education and knowledge transfer. The integration of environmental education, best practices and ecological support in our day-to-day work complements our on-going efforts in this regard."
Laila Mostafa Abdullatif, Director General, EWS-WWF, said: "EWS-WWF has been working with organisations across the UAE to inspire, support and further the understanding of environmental issues. Gulf Capital's contribution facilitates our many important environmental conservation programmes across the UAE. These series of projects address the UAE's ecological footprint and promote conservation. This collaboration plays a part in EWS-WWF's long-term efforts in creating a more sustainable future for our nation. We are looking forward to working in partnership with like-minded companies such as Gulf Capital to make a positive difference."