September 19, 2016
Gulf Related's Al Maryah Central 50% Leased; The Galleria on Al Maryah Island Adds 7 New Restaurants
50% of Al Maryah Central's Gross Leasable Area leased, well ahead of the 2018 opening
Agreements between Gulf Related and leading retailers including Dubai Holding Group, Majid Al Futtaim Group, Chalhoub Group, Al Tayer Group and others
The Galleria announces the Dining Collection as part of its premium waterfront offering, with seven distinctive new restaurants
Gulf Related today announced that Al Maryah Central is now 50% leased, with over 785,000 square-feet of signed leases, in a significant milestone for the development. Over 60 more brands have been secured with leading retailers including Dubai Holding Group, Majid Al Futtaim Group, Chalhoub Group, Al Tayer Group and others.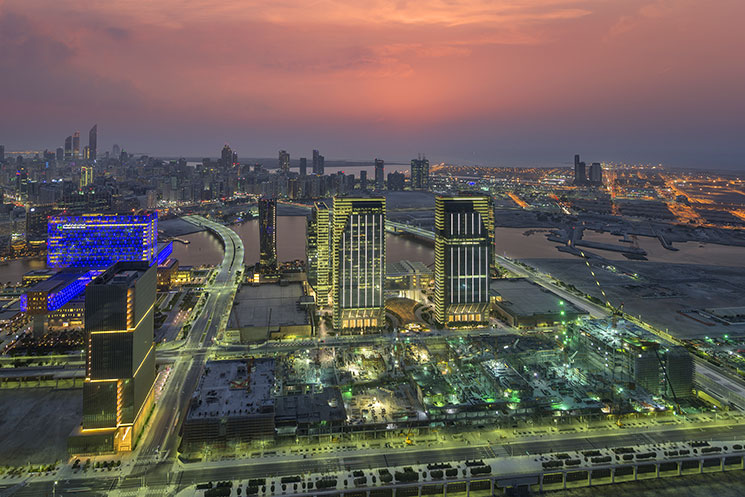 The series of landmark partnerships will bring favoured international brands including a 35,000 square-feet flagship Zara, All Saints, Lululemon and Alice and Olivia.
The recently announced 21 screen multiplex flagship VOX with IMAX from Majid Al Futtaim Cinemas will join a line up of family friendly retail and entertainment, including The Toy Store and fresh food convenience with a 30,000 square-feet Waitrose.
Building on the positive momentum on Al Maryah Island, Abu Dhabi's luxury fashion and dining destination The Galleria also announces The Dining Collection, having secured leases to bring seven more leading restaurants to its current collection. Sitting alongside popular existing restaurants such as Zuma and Bentley's Bistro, the new venues include La Petite Maison, Roberto's, Coya, Nusr-Et, Sa-mar, Eat Greek and Loca. The Dining Collection will represent one of the most desirable dining destinations in the Middle East, reflecting The Galleria's commitment to delivering excellence to the capital.
Ken Himmel, Co-Managing Partner, Gulf Related and President and Chief Executive Officer, Related Urban, said: "The number and quality of flagship leasing agreements and much-loved international brands which we have secured for Al Maryah Central speaks to the real enthusiasm in the market for this project. Abu Dhabi's annual retail spend is projected to reach US$12.18 billion by the time Al Maryah Central opens in 2018, and this development is strategically located at the heart of this market. The commercial momentum achieved over the last six months is as a result not only of our great team and their vision for Al Maryah Island, but more importantly the ongoing growth and increased sophistication of Abu Dhabi's consumer market."
Ken Himmel went on to say: "Al Maryah Central is the anchor destination on what will be a world-class business, entertainment and residential community. It will be a truly unique offering in Abu Dhabi, complementing the continuing success of The Galleria and providing a fully integrated, cosmopolitan lifestyle destination exceeding the needs, tastes and expectations of Abu Dhabi's residents and tourists."
Once opened in 2018, Al Maryah Central will be the 2.8 million-square-feet anchor mall set in the heart of Al Maryah Island's new, 15 million-square-feet central business district. The island's assets include over 100,000 square-feet of landscaped parks and a waterfront promenade. The entire island is connected through air-conditioned interior walkways to allow people to walk from place to place.
Al Maryah Central will offer a diverse mix of retail, dining, entertainment and family activities to the anticipated 15 thousand people who will live and work on Al Maryah Island. It will be home to the flagship 21 screen multiplex VOX cinemas with IMAX which also features the exclusive dining experience THEATRE by Rhodes, a collaboration with Michelin Star chef Gary Rhodes. The next generation mall will also be easily accessible to a core catchment of almost half a million people living within a ten-minute drive. This population makes up a significant proportion of the 24 million people a year who are expected to visit Al Maryah Central by 2022 (Urbis, 2016).
His Excellency Ali Bin Saeed Al Shamsi, Chairman of Dubai Holding Group, said: "Gulf Related's vision to create a stylish, bustling and best-in-class shopping and lifestyle center for the region has inspired us to bring our portfolio of international brands including Zara, Zara Home and Stradivarius to this outstanding development. The GCC's consumer market is ever-growing, yet the mall remains a central part of community life. Al Maryah Central has gone beyond traditional conceptions of a mall to create a mixed-use development with a sense of place and community built in – a center for social life and gathering as well as shopping and dining. We're delighted that our brands are coming to this vibrant community in Abu Dhabi in partnership with Gulf Related."