May 15, 2016
Gulf Capital Receives Best Alternative Investment Firm in the Middle East at the Banker Middle East Industry Awards
Gulf Capital, one of the largest and most active alternative asset managers in the Middle East, was yesterday named as the "Best Alternative Investment Firm" in the Middle East at the Banker Middle East Awards. The prestigious ceremony was attended by prominent industry leaders and banking and finance experts from the Arab World, including the Gulf Cooperation Countries (GCC), Levant and North Africa, and from around the world.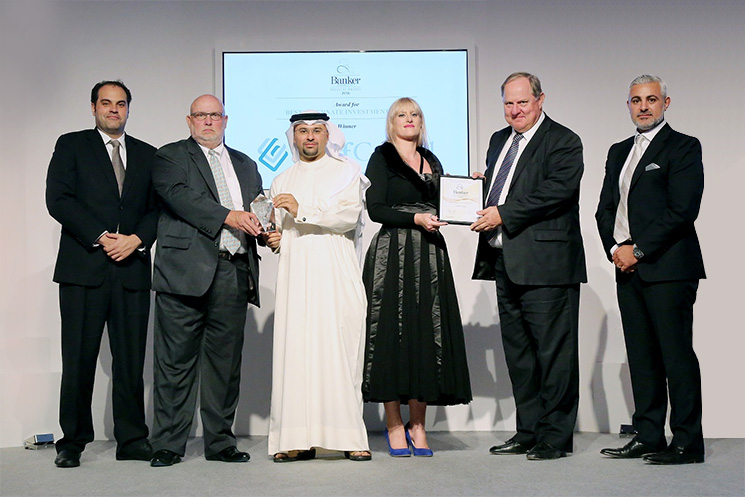 The award was presented to Chris Foll, Chief Financial Officer at Gulf Capital, Richard Dallas, Senior Managing Director at the Firm's Private Equity Group, Fidaa Haddad, Managing Director at the Private Debt Group, along with their teams.

Commenting on the recognition, Dr. Karim El Solh said: "Over the years, we have grown into becoming one of the largest and most active alternative investment firms in the Middle East. As we are celebrating our 10th anniversary, Gulf Capital has become the gateway for regional and global investors for investments in the Middle East. We are entering 2016 with a strong momentum across all of our alternative asset classes, fully funded and actively seeking investment opportunities. We look forward to yet another productive year."

He added: "We are extremely proud to have won this award and to be recognised as the premier alternative investment company in the region. As we celebrate our tenth year anniversary in 2016, this award is a testimony to the rapid growth, strength and diversity of our asset management platform. Gulf Capital manages today over 14.7 billion dirhams (US$4 billion) across 10 funds and investment vehicles. The Firm invests across three alternative asset classes, namely private equity, private debt and real estate. Over the last year, Gulf Capital has been particularly active and productive across its businesses, on the investing, acquisitions and growing fronts. We expect 2016 to be equally productive, and we are fortunate to be one of the best capitalised investment firms in the region and to be able to take advantage of the unique investment opportunities in the current environment."

Gulf Capital has been quite busy in Private Equity over the last year, closing a series of new investments and bolt-on acquisitions for its portfolio companies. The Firm acquired last week 100% of Multibrands Trading Co, one of largest food and beverage distributors in the Kingdom of Saudi Arabia. This F&B related transaction, the largest of its kind in its sector, continues Gulf Capital's strategy of investing in defensive and fast growing sectors across the Gulf region. Gulf Capital has built to date a portfolio of defensive investments in resilient and fast growing sectors such as food and beverage, healthcare, education, hospitality, power, water and FMCG.

The Private Debt division also had a particularly busy period in 2015, as evidenced by the landmark investment in Carbon Holdings, one of Egypt's largest industrial petrochemical projects. Dr El Solh commented: "Gulf Capital is increasingly becoming the provider of choice for growth capital to fast growing companies and for acquisition finance for regional investment firms. With the launch of our second Private Debt fund, Gulf Capital is increasing its activities in this sector and expects to announce a number of new credit and mezzanine transactions in the near future."

Gulf Related, Gulf Capital's real estate development arm in joint venture with the Related Companies, achieved a major milestone in September 2015 by securing a US$626 million debt financing for its landmark US$1 billion Al Maryah Central mixed-use development. Gulf Related also launched the design of two residential and hotel/residential towers as part of the broader Al Maryah Central mixed-use development in Abu Dhabi. Gulf Related is focused on pursuing marquee large-scale mixed-use and residential real estate development opportunities in the GCC region.