September 28, 2015
Gulf Related Secures AED2.3 Billion Financing for Al Maryah Central from Abu Dhabi Commercial Bank in One of The Major Financings In 2015
Financing is a testament to Al Maryah Central's strong progress and unique positioning.
Gulf Related has signed a AED 2.3 Billion (US$ 626 million) agreement with Abu Dhabi Commercial Bank (ADCB) to provide senior debt project financing for the construction of Al Maryah Central mixed-use retail development, scheduled to open in March 2018. The financing agreement is the largest of its kind in the region for Gulf Related and its owners, Gulf Capital and Related Companies, further highlighting the strong reception and institutional support for Al Maryah Central development.
In addition, Al Maryah Central will include 145 restaurants and cafés, a 20-screen cinema complex, a medical center, a crèche, a health-club, a public library, a food market as well as three rooftop parks atop the mall. Subsequent phases of the development will include residential units and a hotel in two high rise towers.
Financing by ADCB will fund a portion of the development cost of the mixed-use retail development and is an important milestone in the strong progress of the project. The project broke ground in November of 2014, commenced vertical construction earlier this month and is scheduled to open in March 2018.
Dr. Karim El Solh, CEO of Gulf Capital and Co-Managing Partner of Gulf Related said, "We are very pleased to have secured the financial backing of Abu Dhabi Commercial Bank for Al Maryah Central, one of the most anticipated developments in the region. This financing continues a long standing partnership with ADCB and we are proud to be collaborating with them on this exciting project. Securing the full financing marks another key milestone in the construction of the project and further underscores our ability to deliver this high quality development on schedule."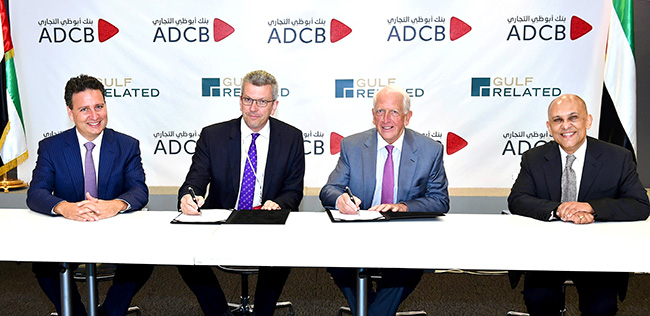 Ala'a Eraiqat, Group CEO and Board Member of Abu Dhabi Commercial Bank said, "ADCB is proud to be collaborating with Gulf Related on Al Maryah Central and to be the sole lead bank for the financing for this marquee project. Al Maryah Central, located at the heart of Al Maryah Island and with its unique anchor department stores and international brands, will transform the urban retail landscape in Abu Dhabi. Our project finance team recognized the appeal and unique positioning of this project and were able to put together the most competitive and sophisticated financing package. This major financing is in line with ADCB's strategy to support and contribute to the long term growth of the economy in Abu Dhabi."
Kenneth A. Himmel, President and CEO of Related Urban and Co-Managing Partner of Gulf Related said, "This is a significant moment for this development and further underscores our commitment to bringing this high-quality, world-class retail to Abu Dhabi. Al Maryah Central will bring international brands such as Macy's and Bloomingdale's to the region and will further reinforce Abu Dhabi and the UAE's position as a leading retail and entertainment destination. Abu Dhabi's economy is diversifying and expanding rapidly and we look forward to being part of that growth."
"Having the ability to fund a major development in Abu Dhabi is a testament to ADCB's success in delivering banking excellence in the UAE", said Colin Fraser, Head of Wholesale Banking at ADCB. "We believe that Al Maryah Central will bring significant benefits to the capital, directly mirroring ADCB's mission to support the long-term growth of the country".
Emile Habib, Managing Director of Investments for Gulf Related added, "ADCB was selected as a result of its competitive finance terms and structure along with the bank's specialist experience of funding mixed use retail-led developments in the region. This, combined with ADCB's in-depth understanding of our project, makes them the ideal partner for us."
Vertical construction on Al Maryah Central commenced on 9 August 2015 following the appointment of Brookfield Multiplex as the main contractor for the project. Al Maryah Central is adjacent to Abu Dhabi Global Market Square luxury retail and dining destination – The Galleria on Al Maryah Island – which was developed by Gulf Related with Mubadala Real Estate and Infrastructure. Al Maryah Central and The Galleria will be physically interconnected and together will create an unrivalled 2.9 million square foot shopping and dining destination for Abu Dhabi.