October 28, 2014
Al Tayer Group and Gulf Related sign Landmark Agreement
First international Macy's department store and the first Bloomingdale's in Abu Dhabi marks a momentous milestone in UAE retail history
Scheduled to open in Spring 2018, each multi-level flagship will boast over 200,000 square feet of retail, marking the two largest department store offerings in the region
The $1 billion retail development at Al Maryah Central by Gulf Related is set to change the face of retail across the region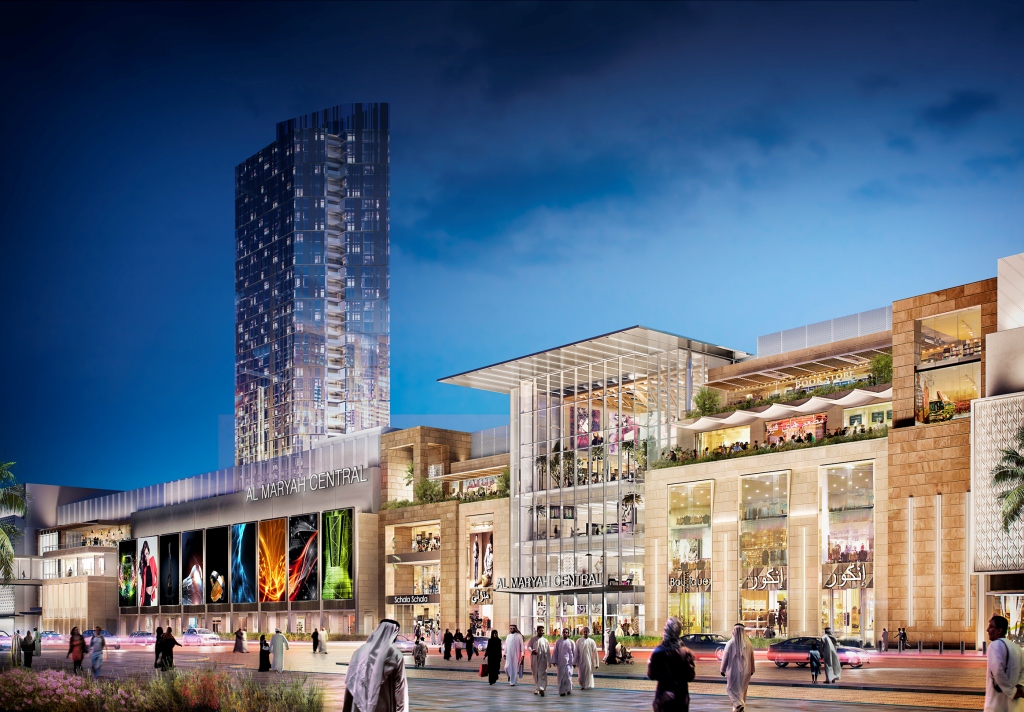 Abu Dhabi, UAE – October 28th, 2014 – Gulf Related, a regional development company and joint venture between Gulf Capital and Related Companies, and Al Tayer Group, a diversified regional business, today announced that they have signed a landmark agreement which will see the opening of two iconic US department stores, Macy's and Bloomingdale's, at Al Maryah Central, a 2.3 million square foot shopping center being developed on Al Maryah Island, Abu Dhabi.
The signing of the 205,000 square foot Macy's to open at Al Maryah Central marks the first time that Macy's will open a store outside of the US. The opening of the 230,000 square foot Bloomingdale's marks the first store to open in Abu Dhabi and the second store in the UAE.
Each of the flagship stores will be divided across four levels offering residents and visitors to Al Maryah Central access to the apparel, accessories, home and beauty brands that Macy's and Bloomingdale's are famous for worldwide.
With Macy's at 205,000 square foot and Bloomingdale's at 230,000 square foot, the combination of these flagship stores sees Al Maryah Central housing the two largest department stores in the region and secures its reputation as a catalyst for change and evolution of the retail landscape not only in Abu Dhabi, but across the region.
Al Tayer Group will operate over 20 inline retail stores comprising of fashion, cafés and restaurants, bringing the total anchoring commitment from Al Tayer Group to over 520,000 square foot, representing approximately one third of Al Maryah Central's total leasable space.
Al Maryah Central will directly connect to, and seamlessly integrate with, the recently opened luxury shopping and dining destination, The Galleria on Al Maryah Island. Together Al Maryah Central and The Galleria create a 2.9 million square foot waterfront retail shopping destination that anchors the 8.6 million square foot mixed-use district comprised of Sowwah Square and Al Maryah Central.
Marking its international debut, Macy's is an iconic retailer offering powerful assortments and the best brands tailored to each and every customer with substantial value, engaging service and unforgettable moments which is distinctly different from other major retailers. Macy's embrace their customers and strive to provide an experience that transcends ordinary shopping.
The Bloomingdale's store in Abu Dhabi will reflect the retailer's distinguished reputation for the high quality of designers and luxury goods sold in an attentive, high service environment. Bloomingdale's will offer an esteemed collection of luxury and contemporary brands across apparel, accessories, footwear, beauty, fine jewelry, children's wear and homeware.
"We are delighted to be launching the first Macy's outside of the United States, as well as our second Bloomingdale's, in Abu Dhabi. Having recorded almost five successful years with Bloomingdale's – Dubai, we are confident that the offering from Macy's will have an equally strong appeal in the Middle East region. Both Macy's and Bloomingdale's have entrenched themselves as market leaders in department store retailing in the US, and we look forward to delivering the same unrivalled shopping experience to customers in Abu Dhabi," said Khalid Al Tayer, CEO – Retail, Al Tayer Group. "Al Maryah Central provides an ideal home for these landmark introductions, forming one of many significant developments underway in Abu Dhabi over the coming years, which serve to strengthen its position as a cultural, commercial and tourism leader" he added.
"As a spectacular new world-class shopping destination, Al Maryah Central provides an outstanding opportunity to introduce Macy's to customers who live and work in the booming UAE market, as well as to visitors who come from around the world for events, business and holidays," said Terry Lundgren, Macy's, Inc. Chairman and CEO. "Macy's and Bloomingdale's already are well known globally. They are destinations for international tourists to the United States and play an important role in popular culture domestically and globally".
Scheduled to open in Spring 2018, the 3.1 million square foot mixed-use development will include 2.3 million square foot of retail, located within a stunning architectural setting. Al Maryah Central, poised to become a world-class iconic regional shopping center, will feature a comprehensive merchandise mix of best in class retail – offering a combination of both luxury and contemporary brands – an extensive food & beverage selection, family entertainment options, a cinema and a health club.
Kenneth A. Himmel, President and CEO of Related Urban and Co-Managing Partner of Gulf Related said, "Macy's decision to establish its first international store, and Bloomingdale's second store, at Al Maryah Central is an impactful vote of confidence from world-class retailers and truly establishes the complex as an unrivalled retail destination. Macy's and Bloomingdale's are both illustrious brands, famous for their diverse range of merchandise, and we are delighted that these iconic retailers will anchor Al Maryah Central and offer a one-of-a-kind experience to everyone who visits. Al Maryah Central's strategic and accessible position, and its proximity to Dubai and Abu Dhabi's international airports, presents a core catchment area with compelling demographics that are unsurpassed in the Emirate. The successful opening of The Galleria on Al Maryah Island last year marked our initial venture into the market and as we expand our retail footprint in the region and draw upon our experience in the US, we are committed to providing best-in-class retail, hotel and residential experiences. We are confident that Al Maryah Central will become an unsurpassed destination to shop, dine and be entertained."
Dr. Karim El Solh, CEO of Gulf Capital and Co-Managing Partner of Gulf Related commented, "Located at the center of Al Maryah Island, and acting as a meeting point for old and new Abu Dhabi, Al Maryah Central will be naturally integrated into the heart of the community. Al Maryah Island is fast becoming the go-to destination for the lifestyle and retail demands of the capital and the preferred location for many new retailers. This pioneering deal will further enhance the development and sophistication of retail both in Abu Dhabi and across the region. Gulf Capital is proud to be working with our partners, Related Companies and Al Tayer Group, on this landmark, iconic development at the heart of the Capital."
In addition to a unique food hall, Al Maryah Central will host an extensive mix of over 90 dining options including al fresco cafés, bistros and fine dining restaurants. The local community's thirst for family entertainment will be satisfied through the provision of a 20-screen cinema, health-club, food market, children's entertainment and rooftop parks that include an outdoor amphitheater for film screenings and events. The precinct will also feature two 400,000 square foot integrated towers; one with a hotel and serviced apartments and the other with luxury residences.
The successful delivery of this development will be the result of a best practice collaboration between multiple stakeholders. Marvin Traub Associates acts as Gulf Related's exclusive leasing advisor and co-led the overall retail merchandising strategy. Traub was also responsible for arranging the partnership between Al Tayer Group and Macy's Inc. Leading the Abu Dhabi based development efforts for Gulf Related at Al Maryah Central is Kevin Ryan, Managing Director of Development and Emile Habib, Managing Director of Investments & Business Development.
Forming the center-point of Al Maryah Island, Al Maryah Central will seamlessly link to The Galleria on Al Maryah Island, Gulf Related and Mubadala Development Company's 550,000 square foot premier shopping and dining development with a stunning waterfront promenade. Combined, The Galleria on Al Maryah Island and Al Maryah Central represent over 2.9 million square foot or approximately 500 retail, leisure, dining and entertainment options.
Al Maryah Central will also be connected to over 15.7 million square foot of adjacent, completed and occupied properties on Al Maryah Island by 2018. The thriving district will include Sowwah Square, comprised of The Galleria on Al Maryah Island, four Grade 'A' commercial towers, Rosewood Abu Dhabi and Four Seasons Hotel Abu Dhabi (due for completion in 2016); new headquarter office towers for both the National Bank of Abu Dhabi and Al Hilal Bank; Maryah Plaza's luxury residential towers and Cleveland Clinic Abu Dhabi. The entire urban district will be highly accessible and directly interconnected by air conditioned passageways and serviced by over 15,000 parking spaces and 13 bridges providing access to Al Maryah Island.
Gulf Related is a partnership between Gulf Capital, one of the Middle East's leading alternative asset management firms, and Related Companies, one of the largest private real estate development and investment firms in the United States.
Coverage:
ABC News
Business Wire
Emirates 247
GulfNews
Market Watch
Wall Street Journal
The National