May 06, 2013
Gulf Capital and Gulf Related secure SR 450 Million Finance Facility from NCB for Saudi Residential Mega-Project
Gulf Capital announced today that it has signed a SR450 million ground-breaking financing facility deal with National Commercial Bank (NCB), one of the leading commercial banks in the region. The ten-year facility will help finance Gulf Related's first real estate development in the Kingdom.  Gulf Related is a leading regional real estate development venture primarily focused on residential and high-end mixed-use real estate destination developments in the Mena region. The company represents a joint venture partnership between Gulf Capital, one of the largest and most active alternative investment firms in the Middle East and Related Companies, one of the largest private real estate development and investment firms in the United States.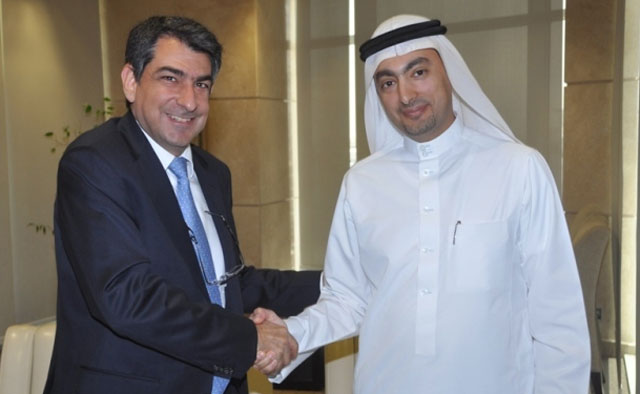 The long-term structured facility will allow Gulf Related to leverage its investments in the Kingdom, following the announcement last year of a multi-million dollar high-end residential project in Riyadh. The agreement was signed by Eng. Yasir Abu Sulayman, who heads the Structured Finance Division of NCB and Emile Habib, Managing Director of Gulf Related, in the presence of senior officials from both parties.
Dr Karim El Solh, Chief Executive Officer of Gulf Capital, said: "Saudi Arabia is a high growth economy with a young and fast-growing population and large residential developments are needed to meet the pent-up demand for housing. This flexible, long-term financing deal from NCB will allow us to launch a world-class residential compound in Riyadh with a total development cost that is projected to be over SR 650 million, which is timely and will help fill the acute shortage in residential housing in the Kingdom.  We look forward to partnering with NCB on this exciting project."
AlSharif Khalid AlGhalib, Senior Executive Vice President and Head of NCB's Corporate Banking Sector said: "This financing aims to meet increasing demand for housing in the Kingdom, and reflects NCB's vision to support the real estate sector."
Emile Habib said at the signing ceremony: "This is a remarkable endorsement of our ventures in the real estate development sector in general and in the Kingdom of Saudi Arabia in particular. We are excited to secure this financing deal from one of the strongest and largest financial institutions in the region. The innovation and flexibility of the current facility made NCB the clear partner of choice for us."
"The deal has been put together with a solid understanding of our sector and our business model. NCB is a true reliable banking partner with strong financial commitment. We are looking forward to having a longstanding partnership with the Bank," he added.
Emile Habib concluded: "The size of our new project in Saudi Arabia and the extent of our financial commitment reflect our strong belief in the residential sector in the Kingdom. We look forward to working with NCB on this exciting project and to building a long and successful mutual relationship."
Eng. Abu Sulayman said: "NCB is committed and focused towards supporting the Kingdom's development and marquee firms such as Gulf Capital who are contributing to this process. Providing the required funding for this promising real estate project in Riyadh supports this approach and fulfills our mission to back activities that boost the national economy."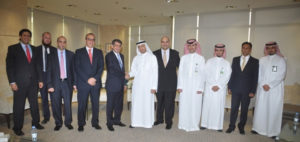 Studies show that there is a huge demand for housing units in Saudi Arabia, projected at 1.3 million residential units over the next seven years. This is largely being driven by domestic demand with Saudis Nationals making up more than two-thirds of the population. However, demand for housing and other services from expatriate sources have increased rapidly over the last 3 years with a surge in expatriate population by more than 20%. Riyadh's expatriate community in particular, which already stands at approximately two-fifths of the city's population,  is forecasted to grow by 6% per annum and is expected to reach 2.8 million by 2015. This in addition to historically limited expatriate residential compound units on the market, currently around 13,500, translates into no vacancies and waits lists in excess of 1 year which is ultimately having an upward trend on rental rates and therefore presents a very attractive opportunity for an experienced developer such as Gulf Related to capitalise on.
As such, Gulf Related had acquired two strategically-located plots of land in the growing North Western part of Riyadh on King Khalid Road (Salboukh Highway), where the project will be built. The planned development, which will be built over one of these plots on an area of around 157,000 square metres, consists of a residential compound that includes 525 villas, townhouses, duplexes and apartment units. It will be conveniently located about ten minutes from King Abdullah Financial District and twenty minutes from King Khalid International Airport. The total development cost of this residential compound is projected to be over SR 650 million.
Gulf Related has successfully expanded its investment portfolio into real estate with distinguished partnerships and marquee projects. The Salboukh residential compound development is the third signature project for Gulf Related, which is also currently developing The Galleria, an up-market signature destination project in Abu Dhabi, UAE. Gulf Related has also just unveiled plans for a USD 1 billion high-end retail and mixed-use project on Al Maryah island, in the heart of Abu Dhabi, featuring a 2.3 million sq. ft. super-regional shopping center and adjoining luxury hotel and residential towers.