January 27, 2013
Gulf Related Unveils Dynamic Vision for World – Class Retail Distribution
Regional development company, Gulf Related, today unveiled the vibrant vision for Sowwah Central, a dynamic mixed use development featuring a 214,000 square meter (2.3 million sq. ft.) super-regional shopping center and adjoining luxury hotel and residential towers on Al Maryah Island, Abu Dhabi.  Forming the centrepoint of Al Maryah Island, Sowwah Central will seamlessly link to The Galleria at Sowwah Square, Gulf Related's previously announced and 100% leased, 51,000 square meter (550,000 sq. ft) luxury shopping and dining development with a stunning waterfront promenade.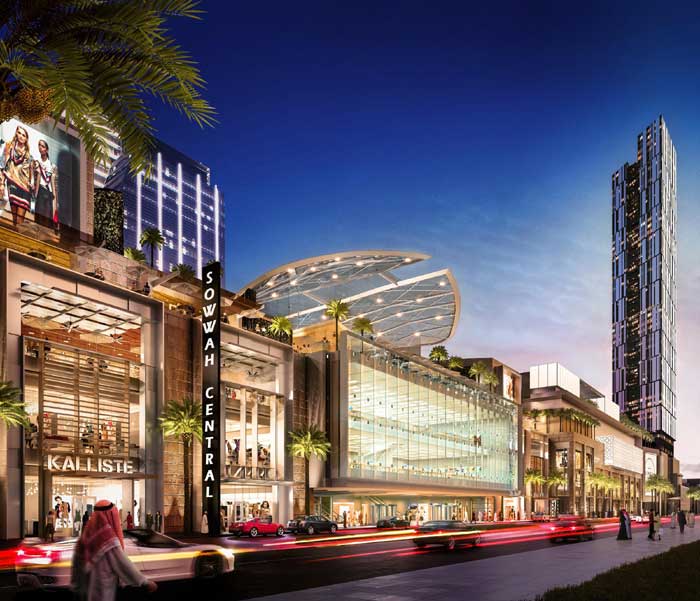 When open in spring 2017, Sowwah Central will be connected to 1.5 million square meters (15.8 million sq. ft) of adjacent, completed and occupied properties on Al Maryah Island.
Capitalising on the prime position of Al Maryah Island as the focal point of Abu Dhabi's new business, retail and residential areas, Sowwah Central will create an unrivalled lifestyle destination for Abu Dhabi. The Elkus Manfredi designed development will provide a fully climate controlled thriving shopping, dining and entertainment destination for local, regional and international visitors alike.  Recognizing the development opportunity, Gulf Related acquired the 50,000 square meter (530,000 sq. ft.) Sowwah Central site from Mubadala Real Estate & Infrastructure in November 2012.
Anchored by two internationally renowned department stores – each 20,000 square meters (210,000 sq. ft.) over four levels, Sowwah Central will offer a world class collection of stores, a state-of-the-art cinema complex, extensive teen and youth entertainment options and a premier health club.  In addition, an eclectic mix of over 80 dining options including al fresco cafés, bistros and fine dining restaurants will be complemented by a panoramic, open air rooftop food hall.  Signature events will be held in lush landscaped open spaces.  Sowwah Central will also feature two 37,000 square meter (400,000 sq. ft.) towers; one with a 5-star hotel and serviced apartments and the other with luxury residences.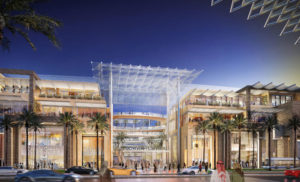 Combined, The Galleria and Sowwah Central represents over 500 retail, leisure, dining and entertainment options.
Khalid Al Tayer, CEO Retail, Al Tayer Group said "Following the strong commitment of Al Tayer Group and its partner brands to The Galleria, we are excited about the announcement of this cutting-edge retail destination on Al Maryah Island. We are working alongside Gulf Related to create an exciting and world-class retail offering.  Combined with our luxury partner brands available in The Galleria, we look forward to offering a diverse collection of the most sought after brands to discerning customers in Sowwah Central."
Presenting the highest concentration of luxury retailers in Abu Dhabi, and a world class repertoire of aspirational brands, Gulf Related's completion of all retail leasing at The Galleria 12 months prior to the August 2013 opening has been an outstanding success.  Representing best-in-class retail practices, The Galleria is already known to include iconic luxury fashion brands such as Louis Vuitton, Cartier, Prada, Gucci, Van Cleef & Arpels and Bulgari.
Today The Galleria announced 48 additional retailers including; international fashion brands Dior, Fendi, Burberry, Miu Miu and Ralph Lauren; luxury accessories and fine jewellery brands Mikimoto, Pomellato, Richard Mille and Tag Heuer and first to Abu Dhabi brands Jimmy Choo, Berluti, Boucheron, Diane von Furstenberg and Moschino.
The Galleria also announced Zuma, Almaz by Momo and Armani Caffé as a component of the 25 F&B venues, including numerous waterfront licensed and unlicensed chef-driven restaurants and cafes.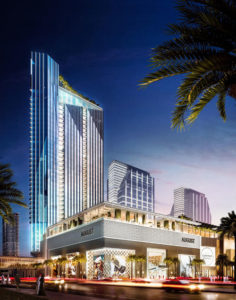 Patrick Chalhoub, CEO of the Chalhoub Group, said: "The Galleria is a world class project poised to become the ultimate destination for fashion and luxury retail in Abu Dhabi. We fully expect this precinct to be a great success and offer an unparalleled environment which will exceed our customers' expectations.  The Chalhoub group is looking forward to the unique opportunities associated with the adjacent Sowwah Central development that will undoubtedly complement the dynamic retail district, enhancing the shopping experience on Al Maryah Island and ensuring the offering is on par with the highest international standards."
Kenneth A. Himmel, Co-Managing Partner of Gulf Related and President and CEO of Related Urban said: "Our vision for Sowwah Central was born out of the tremendous response by the luxury retail community to the unique offering at The Galleria. Sowwah Central will create a new paradigm in Abu Dhabi through the creation of the region's premier one-stop destination for retail, leisure and dining. Related is proud to have created some of the most internationally recognizable and celebrated retail driven mixed-use developments in the United States such as the Time Warner Center in New York and CityPlace in West Palm Beach, as well as the largest private development in the USA, Hudson Yards, Related's current 15 million sq. ft. landmark project in Manhattan. Looking to the future we are extremely excited at the opportunity to bring the dynamic vision for Sowwah Central to life and provide the community of Abu Dhabi with an unsurpassed destination to shop, dine and be entertained."
Traub, formerly Marvin Traub Associates, a global leader in retail consultancy, acted as Gulf Related's exclusive leasing advisor for The Galleria and is also responsible for the retail merchandising strategy and leasing for Sowwah Central.  TRAUB has been bringing global brands to clients in the region for the past twelve years.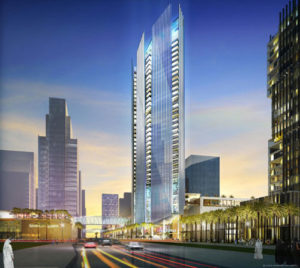 Dr. Karim El Solh, CEO of Gulf Capital and Co-Managing Partner of Gulf Related added: "Since Gulf Capital ventured with Related to launch Gulf Related in 2009, our mission has been to develop large-scale mixed-use projects that combine the energy and vitality of an urban destination with the lifestyle and culture of this vibrant nation.  The Galleria provided us with an ideal stepping stone into the Abu Dhabi retail market and Sowwah Central will help expand and diversify our offerings to cater for all visitors. These two ground-breaking projects establish Gulf Related as the region's preeminent luxury mixed-use real estate development company."
By 2017, Sowwah Central will be integrated into 1.5 million square meters (15.8 million sq. ft.) of completed and occupied developments including Sowwah Square, comprised of The Galleria, four Grade 'A' commercial towers, Abu Dhabi Securities Exchange (ADX), Rosewood Hotel and Four Seasons Hotel; new office towers for both the National Bank of Abu Dhabi and Al Hilal Bank; and Cleveland Clinic Abu Dhabi. The entire district will be highly accessible and directly interconnected by air conditioned passageways and serviced by over 15,000 parking spaces.
Ali Eid AlMheiri, Executive Director of Mubadala Real Estate & Infrastructure (MREI) added, "Gulf Related's role in the overall Al Maryah Island masterplan, combined with their wealth of experience and unrivalled expertise in delivering world-class mixed-use projects, makes them an ideal development partner.  Our vision for Al Maryah Island is to develop a thriving interconnected, urban hub and this development takes us closer to realising this goal."
Gulf Related is a partnership between Gulf Capital, one of the Middle East's leading alternative asset management firms, and Related Companies, one of the largest private real estate development and investment firms in the United States.