November 11, 2012
Emirates Foundation for Youth Development and Gulf Capital sign a partnership agreement to support and empower UAE Youth
Emirates Foundation for Youth Development, a philanthropic organisation established by the Government of Abu Dhabi, has today announced that it has signed a partnership agreement with Gulf Capital, one of the most active alternative investment firms in the Middle East, to support the Foundation's programmes and initiatives for UAE youth.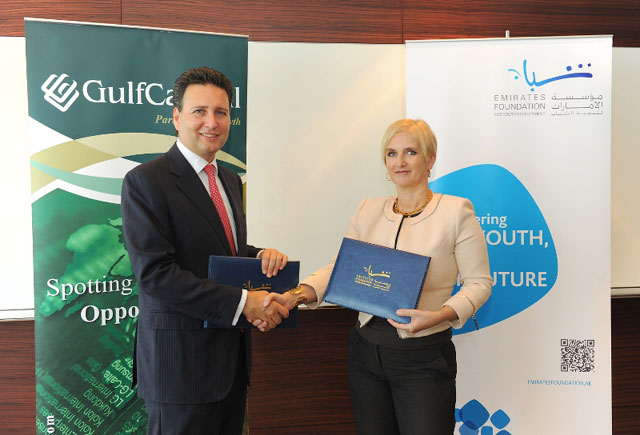 The partnership agreement was signed by Clare Woodcraft, Chief Executive Officer of Emirates Foundation and Dr. Karim El Solh, Chief Executive Officer of Gulf Capital. The collaboration between -the two organisations will focus on the development of youth through education, entrepreneurship and knowledge transfer.
Speaking at the signing ceremony, Clare Woodcraft, CEO of Emirates Foundation said: "Emirates Foundation would like to thank Gulf Capital for its on-going support for our work and our new business model. Gulf Capital's own focus on empowering and educating youth as a key part of its strategy for Corporate Social Responsibility means there are strong synergies between the two organisations. Indeed, Emirates Foundation, as part of its new strategy, is keen to work with business partners in a much more engaged way than in the past by moving beyond funding and providing common areas for collaboration and engagement opportunities for partners' employees."
Dr. Karim El Solh, the CEO of Gulf Capital, said: "Gulf Capital is very proud to be partnering with Emirates Foundation on these inspiring initiatives. We are excited about the positioning and the focus of the Foundation on youth and their development. This is a priority CSR initiative for us, and we look forward to spending the next few years working with the Foundation on supporting and launching youth development programmes".
 
The Foundation will now focus its efforts to assist young people, associated institutions and community organisations to contribute to the nation's long-term progress and sustainability. Programs and projects will relate to three key themes: Leadership and Empowerment, Social Inclusion and Community Engagement and will be delivered through the model of social enterprise.
Clare Woodcraft explained: "As part of our new value proposition for our corporate partners, we invite them to get involved in our work, contribute ideas to our portfolio and consider us as a source of information and expertise to guide their community engagement. Gulf Capital is a great example of a company that sees the value of doing exactly this, and we look forward to working closely with them to firm up potential ideas of this nature."
Dr. Karim El Solh concluded: "As an Abu Dhabi-headquartered investment institution, we are looking forward to giving back to the community in which we operate in, with a specific focus on youth development and empowerment. The Foundation is one of the best channels to reach the youth in the UAE and to come up with tailored programmes like internships, training and continued education, entrepreneurship, and Small and Medium size Enterprise (SME) Financing. The cooperation between Gulf Capital and Emirates Foundation will allow us to reach the youth of this nation and to help them reach their full potential."
Emirates Foundation was established in April 2005 under the guidance of His Highness Sheikh Khalifa bin Zayed Al Nahyan, President of the UAE and Ruler of Abu Dhabi, with the purpose of assisting people, institutions, and community organisations that contribute to the nation's long-term progress and sustainability.