February 22, 2023
Gulf Capital and Asia House on the Middle East Pivot towards Asia: Bilateral trade between the GCC and emerging Asia to reach US$ 578 billion by 2030, growing by 6% annually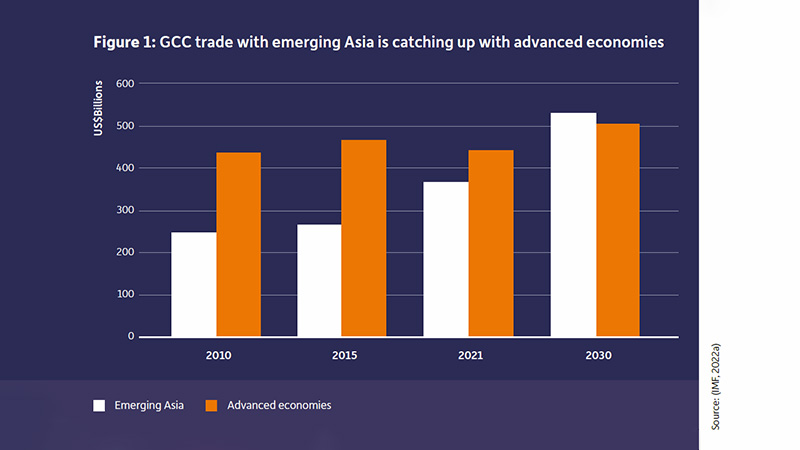 The GCC pivot towards Asia will continue to gain momentum, with bilateral trade between the GCC and emerging Asia set to grow by almost 6% per year over the next decade, to reach approximately US$578 billion by 2030. Trade between these two economic blocks will surpass the GCC's trade with advanced economies by 2028, according to a study by UK-based think tank Asia House, which was discussed today at an event organised by Gulf Capital, one of the largest and most active private equity firms investing from the GCC to Southeast Asia, and  Asia House. 
Speakers at the event included Former Minister of Trade in Indonesia, Thomas Lembong, who is currently Director, Consilience Policy Institute; Abdulla Al Hashmi, Chief Operating Officer, Parks and Zones at DP World UAE; Eric Robertson, Global Head of Research and Chief Strategist, Standard Chartered; Richard Dallas, Senior Managing Director, Gulf Capital, and Freddie Neve, Senior Middle East Associate, Asia House and author of the "Middle East Pivot To Asia 2022" report. 
Freddie Neve said: "Rapidly expanding ties between the Gulf and Asia are creating a fundamental global shift that will have far-ranging implications for international trade, business and politics. The investment corridor is growing in both directions and across various industries, including oil and non-oil sectors. In particular, Gulf economic diversification which is moving at a staggering pace, is attracting Asian investment into emerging economic sectors within the GCC, such as construction, renewables, and technology. We also expect sustainability cooperation to grow in importance as Gulf and Asian economies transition away from hydrocarbons over the next few decades." 
GCC trade with emerging Asia, according to the report, will rise to approximately 36.41 per cent of total GCC trade from the current 30.83 per cent.
Dr Karim El Solh, co-Founder and CEO of Gulf Capital, said: "We are operating in the fastest growing economic corridor in the world today, one that is geopolitically neutral and enjoys demographic and economic fundamentals. Gulf Capital has identified this trend early on and, for the past 14 years, we've been looking east when growing companies from the GCC. Taking our local portfolio companies through this corridor has helped us build global champions, which have become trophies for strategic buyers looking at acquiring cross-country platforms to boost their businesses. Our direct presence through our Singapore office will also help us now grow companies from South East Asia to the GCC."    
Gulf Capital invests in five core sectors – healthcare, technology including fintech and healthtech, sustainability, business services, and consumer.
Richard Dallas, Senior Managing Director at Gulf Capital, said: "Our journey towards the East has helped many of our portfolio companies grow exponentially and exit to strategic buyers across many sectors, including water and sustainability with Metito, B2B travel with Destination of the World, and healthcare services with ART Fertility. We went back to our drawing board and created a blueprint for success: invest in mature companies operating in the sectors of the future, led by a visionary team that can execute impeccably, and expand these companies eastwards across Asia's growth markets which have comparable fundamentals; leadership vision, expanding urbanism, growing middle class, young tech-savvy population, and projected economic growth. Tracking trends and preparing our companies to be future-proof in areas of institutionalisation, digitalisation, sustainability, and ESG, made them highly sought-after trophies in their sectors, and improved their exit opportunities. Our vision was perfectly aligned to that of the GCC's and its pivot towards Asia."
Freddie Neve added: "We expect ties to grow with the expansion of ASEAN's middle classes and good growth prospects for both regions over the next 10 years. There are also natural synergies between ASEAN and Gulf visions for economic growth, with governments in both regions investing in Digitisation, Ecommerce and Healthcare to boost exports. We also expect GCC-Asia cooperation on sustainability and renewables to increase at pace in the future, driving the Pivot towards Asia and encouraging Gulf economic diversification. 
"As the Gulf states transition away from fossil fuels, GCC-Asian cooperation in this sector will gradually be replaced by investment in sustainability, renewables, and developing alternative energy sources such as hydrogen. Gulf investments in digitalisation, fintech, digital assets, construction, and ports also increased GCC-Asia trade in non-oil sectors throughout 2022." 
According to the report, the interest of the GCC's Sovereign Wealth Funds (SWF) in Asia will also "continue to grow and will be a key trend defining the Middle East Pivot to Asia over the next decade." Gulf SWFs have over US$2.5 trillion dollars in assets under their command, meaning changes to their investment strategies can have a considerable impact on global finance.
Gulf SWFs are looking for ways to increase their exposure to Asian markets and are increasingly investing in Asia's markets. As of July 2022, they were involved in US$28.6 billion-worth of acquisitions outside the Middle East and Africa, 45 per cent more than in 2021, with investments heading towards China, India, and Singapore.
"Despite global economic uncertainties, the Middle East Pivot to Asia has exceeded expectations in the last year and is likely to accelerate over the next decade, heralding a profound shift in global trade and cross-border investments that will impact growth, business, and geopolitics," Freddie Neve concluded.