November 24, 2021
Gulf Capital Issues White Paper Quantifying the Unprecedented Growth Opportunities Across 'Ascending Asia''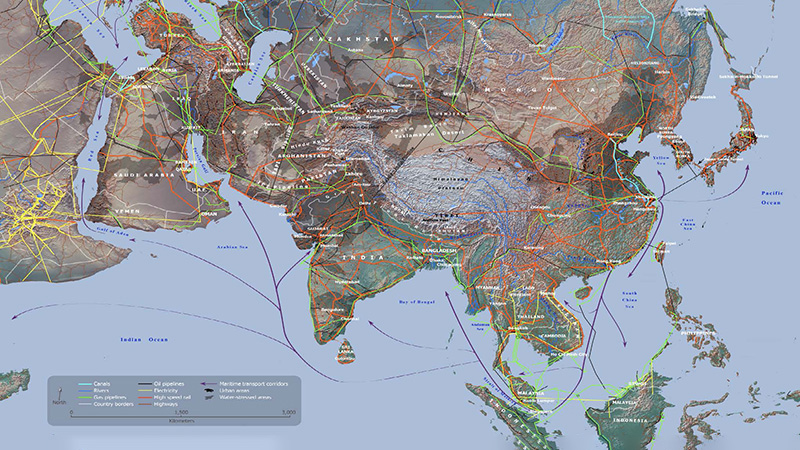 Gulf Capital, a leading thematic alternative investment firm in Asia, today released a white paper which outlines the significant future growth of the Asian economies and the growth in the intra-regional trade and investment flows between West Asia, including the GCC, and East Asia.
With Asia's GDP expected to grow by US$ 22 trillion by 2050, it will account for 60% of the global GDP, according to the paper "Bridging West and East Asia: The Investment Case for Ascending Asia". Asia is the largest and most populous continent on earth.
The study, jointly published by Gulf Capital and Dr. Parag Khanna, Founder and Managing Partner of FutureMap, reveals that the MENA region is expected to increase its GDP by over 3x by 2050, the ASEAN region is expected to grow by 3.7x, and India by 5x. This turbo-charged growth is in sharp contrast to the projected slower growth of the European and US economies at only 1.5x and 1.8x respectively for the same period.
Dr Karim El Solh, Co-Founder and Chief Executive Officer of Gulf Capital, said: "The unprecedented growth opportunities presented by the emergence of 'Ascending Asia' have never been greater. The strong macro-economic fundamentals, a growing middle class and youth population, increasing GDP per capita, rapid adoption of technology, and growing intra-regional trade and investment flows will only strengthen the case for the Asian economies. We are fortunate to be investing and operating across Ascending Asia from the GCC to the Near East and Southeast Asia, where we have acquired a large number of companies in the past."
Asia accounts for more than 50% of global GDP in PPP (Purchasing Power Parity) terms, and its growth trajectory far outstrips the West, according to the paper. The region is forecast to deliver 3.5x the growth of Western economies in the decades ahead, accounting for over half the world's total projected GDP growth through 2050. As growth in the EU and the US slows, their collective share of global GDP will drop from around 30% to less than 20% by 2050.
Dr Parag Khanna, co-author of the paper said: "Already, Asia's exports and imports account for two-thirds of global trade. Its middle class is projected to reach 3 billion by 2030, representing 60% of the world's total. And by 2040, the Asian middle class is forecast to drive 40% of global consumption."
Within this greater Asia, the GCC and Southeast Asia are two ascending regions with rising youth populations where demographic and technological shifts will generate a significant expansion of the services sectors. Across these societies, rising affluence and consumption will drive business expansion, corporate profits, and higher valuations. Longer-term reforms including capital account liberalization and accelerated privatization will unlock fresh investment inflows into new Asian listings.
Additionally, East and West Asia's deepening trade and investment networks indicate that capital, companies, and consumers will increasingly traverse the Indian Ocean and strengthen ties along the new Silk Roads, stitching the region into a whole greater than the sum of its parts.
"As we look to the future, it becomes increasingly difficult to imagine a global portfolio that doesn't include strong exposure to Ascending Asia," Dr Parag Khanna asserts.
Dr Karim El Solh added: "At Gulf Capital, we are proud of our successful and robust 15-year track record of building global leaders out of the Gulf region. We have developed a particular expertise in investing in market leading companies in West Asia and expanding them rapidly, through bolt-on acquisitions and organic growth, into East Asia. This focus on the West-East Asia corridor allows our companies to operate in the fastest-growing region in the world."
He concluded: "Against the backdrop of the evolving megatrends of deepening trade links, sizable FDI flows, greater political cooperation, and the fastest growing consumer sector, Gulf Capital is ideally poised to capitalize on this once in a generation cross-border opportunity. It is our firm belief that if investors want to capture rapid growth over the next three decades, they need significant exposure to the fastest growing industries across Ascending Asia."
The full white paper can be found here.