December 17, 2020
The Galleria Al Maryah Island named 'GCC Commercial Project of the Year' by MEED Projects Awards 2020
The Galleria Al Maryah Island was named as the winner of the GCC Commercial Project of Year award at this year's MEED Awards gala ceremony, which took place on the 16th of December in Dubai.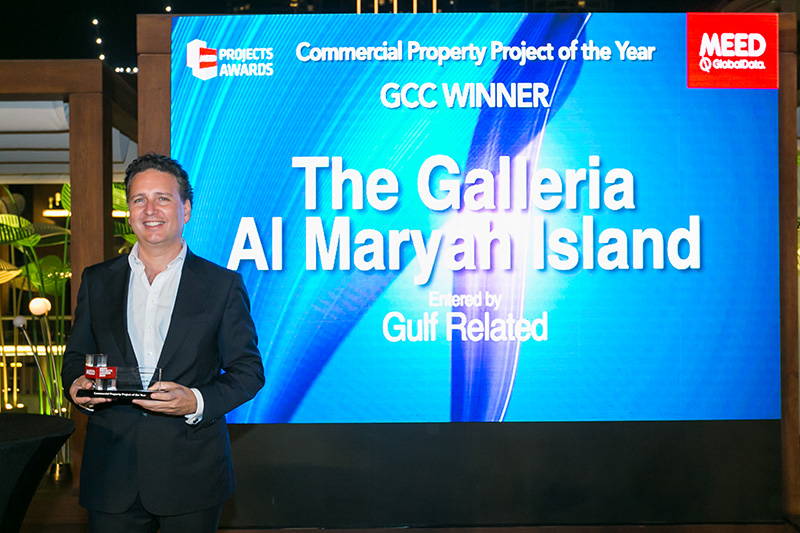 Launched in 2013, The Galleria's Luxury Collection introduced the Abu Dhabi community to over 130 of the world's most coveted luxury fashion and high jewellery brands, as well as 16 award-winning restaurants along the island's waterfront promenade.
Building on The Luxury Collection's success, The Galleria's expansion opened and fulfilled a gap in the market as the only super-regional destination in the heart of the UAE capital. It is a place for the whole community to gather in unique spaces such as urban rooftop parks, enjoy innovative culinary concepts, catch the latest blockbusters in one of the largest cinemas in the region, and experience first-to-the-region family entertainment concepts, as well as an array of community events.
Receiving the award on behalf of The Galleria Al Maryah Island, Co-founder and Chief Executive Officer of Gulf Capital and Managing Partner of Gulf Related, Dr. Karim El Solh said, "We are honoured to have been named as The GCC Commercial Project of the Year. The award is a testament to the unrivalled destination we have created in the heart of Abu Dhabi and our commitment to delivering innovative retail, dining, lifestyle and leisure spaces that the community can enjoy."
The MEED Awards aim to support organizations by recognizing and celebrating their significant achievements as well as encourage them to participate in conversations that set new standards for best practices in the GCC.