March 08, 2018
Find out how this Emirati entrepreneur makes a difference with music
Whether viewed as an entrepreneur, a musician or a philanthropist, Tala Badri is an inspirational figure.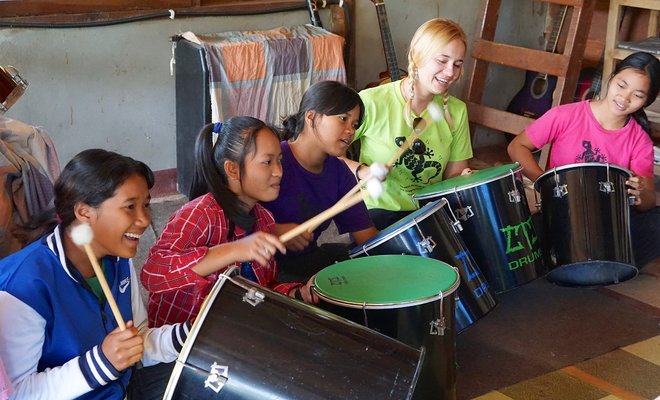 As the founder of Dubai's game-changing Centre for Musical Arts (CMA), she invented the ideal vehicle to channel all these callings into the cause she holds most dear.
Touching thousands of young lives over the past decade, Badri has proved to be a pioneer of music education in the Gulf.
Her efforts have earned a shelf of business awards, which is remarkable given that the CMA is run as a non-profit organization.
The Emirati altruist has directed resources toward leading outreach programs for disadvantaged street children in Cambodia and young Palestinian refugees.
"Someone recently offered to buy (my business) out, but they would've totally destroyed it," laughed the 45-year-old.
"Their concept of music education was to run it like a pure business. I was absolutely mortified.
"I was like, 'that's not happening. I don't care how much money I'm not going to make, I'm not going to hand over something I've built for more than 11 years and let you ruin it'."
Badri first began breaking down doors while still a teenager, when she became the first Emirati to pursue a university education in music, some quarter-century ago, after her parents battled for government funding to study abroad.
"It was tough. My mum and dad had to go in and fight for me to study music, really fight for it. If they hadn't, I'd be somewhere very different today," she said.
The campaign was rewarded when Badri later graduated from Royal Holloway, University of London, in 1995.
To this day, she remains the only Emirati woman to earn a degree in music. "It's very sad, because it shows in 25 years nothing has changed," she said.
"When people see music as something important that develops a person, not a frivolous hobby, that's when it's truly changed.
"We need recognition of what music gives you in terms of softer skills. More and more employers are looking for the ability to think artistically.
"From a business perspective, they're looking for a sense of cursivity, rather than just a business degree, in getting people to think outside the box."
Badri has certainly done her bit toward the battle. After earning a second degree in management and languages, then spending 10 years working for international brands in the financial and consumer sector, she had assembled the skills to pursue her calling.
On the back of a small business loan, the CMA was founded in September 2006 with just six teachers.
Within a month all classes were full, and by the end of the year the school's waiting list had swelled to almost 150, proof of the undernourished arts education at the time.
Within two years 1,200 pupils had enrolled, and the CMA today employs 40 staff and works alongside 16 schools.
Along the way, Badri's achievements have been repeatedly hailed by the male-dominated, bottom line-driven business community — ironically, as she invests all profits into the center, merely paying herself a teacher's salary.
In 2010, she won both Best Emirati Entrepreneur and Best Female Entrepreneur at the Gulf Capital SME Awards, the same year she was asked to speak at TEDxDubai 2010.
A year later, she was invited to an audience with Crown Princess Victoria of Sweden while in town to pick up a Certificate of Appreciation Award.
Badri has also been named a Patron of the Arts and a Friends of the Arts by her hometown authorities, and in 2013 the CMA was named Emirati Business of the Year at Gulf Capital.
"I get a lot of recognition from a business perspective. I've built a business and seen it through two financial downturns. I know how hard it is to be an entrepreneur," she said.
"I could go into consulting and make shedloads of money. I could make anyone else's business work, but I don't want to. I want to make my own business work.
"I still feel I haven't achieved what I really want to do until I feel that the concept of music education in the region has really changed.
"Performing arts in general aren't looked on favorably. It's seen as flaunting yourself, putting yourself out there. I want it to become the norm."
One might call Badri a social entrepreneur. In August, she will lead the CMA's sixth annual expedition to Siem Reap, Cambodia, to work with street children at an orphanage run by the Green Gecko Project.
A team from the school has also travelled to Lebanon to work with children in a refugee camp administered by the Palestine Children's Relief Fund (PCRF). The CMA has hosted visiting children from both projects in Dubai.
"You have to do it to understand what it does to you as a person. All those who've come with us to Cambodia have come back changed and completely reenergized in how they think about things," said Badri.
"Teaching is a very self-sacrificing job. You become a teacher because you've got a talent and a skill, but we normally teach very privileged children, and it's so different to work with children so underprivileged but so hungry to learn.
"It's one of the most satisfying things you can do as a person, to see that you can make another person smile or sing. It's incredibly rewarding."