March 15, 2017
Afra Atiq wins The Gulf Capital – ADMAF Creativity Award 2017
Abu Dhabi Music & Arts Foundation (ADMAF) announced the recipient of the prestigious Gulf Capital – ADMAF Creativity Award last night in the presence of H.E. Sheikh Nahayan Mabarak Al Nahyan, UAE Minister of Culture & Knowledge Development; H.E. Huda Ebrahim Alkhamis, Founder of ADMAF and Dr. Karim Al Solh, CEO of Gulf Capital. Established in 1996, this annual award recognises outstanding Emirati creativity and highlights the wealth of artistic excellence in the UAE.
Announced at the Emirates Palace Auditorium Foyer, the ceremony awarded the talented Emirati PhD student and Emirati spoken word poet Afra Atiq for the exceptional piece, 'An Open Letter to Cancer'.
The emotional and expressive work – a letter addressed to cancer – is divided into stages mimicking the disease, bringing to life the struggles and difficulties a family endures during the treatment of a loved one. The deeply moving piece was chosen from 25 entries received from students and recent graduates of colleges and universities across the UAE (Ras Al Khaimah, Fujairah and Sharjah, Abu Dhabi and Dubai). The winning entry by Afra Atiq is available to view until 31st March in the Emirates Palace Auditorium Foyer.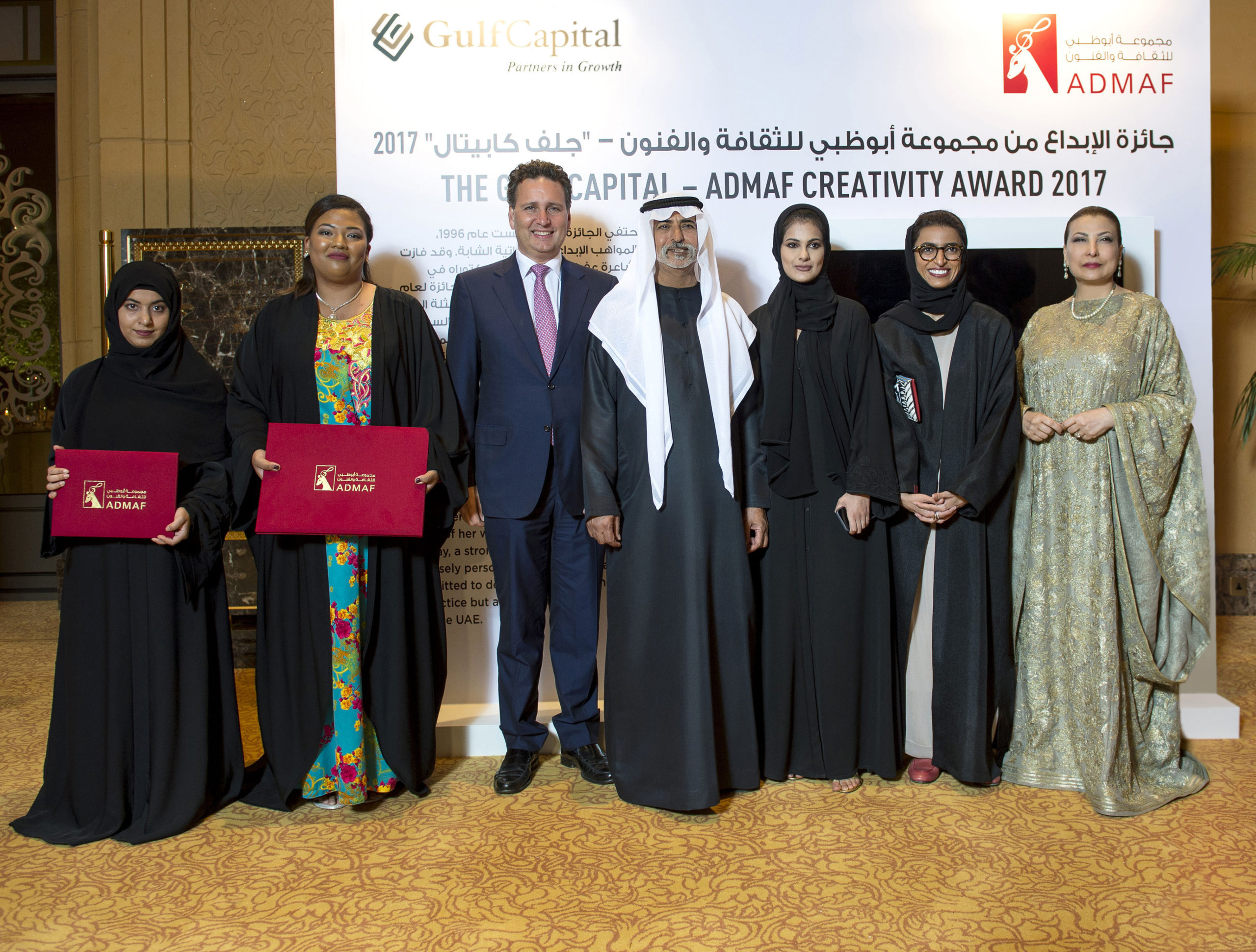 Commenting on their ongoing partnership with ADMAF, Dr Karim El Solh, Chief Executive Officer of Gulf Capital, said: "I would like to congratulate Afra Atiq for winning this award and for her creativity. I would also like to commend all the young Emiratis who participated in the Award programme this year. Gulf Capital is committed to supporting Abu Dhabi Festival and its exceptional educational programmes in the "Year of Giving". Throughout two decades, the ADMAF has helped nurture the understanding and appreciation of the arts amongst children and youth in the UAE. This 14th edition of the Foundation's largest initiative – the Abu Dhabi Festival – taking place throughout April, inspires young students to develop their talent and passion for the arts. Education, entrepreneurship and youth are the pillars of Gulf Capital's social responsibility programme, and supporting ADMAF's educational initiatives is in line with our CSR strategy."
The annual ADMAF Creativity Award was first established in 1996 to support young national creativity in the visual arts, performing arts, literature, animation and film. It offers a total prize money of AED 10,000 to an individual who is able to demonstrate outstanding creativity. Open to Emirati nationals aged between 18 and 35 years old, the award's criteria is based on artistic merit, evidence of original and creative thinking and personal application of technical skills.
The Abu Dhabi Festival is presented and organised by Abu Dhabi Music & Arts Foundation. ADMAF is an independent, not-for-profit organisation that seeks to nurture the arts, education, culture and creativity for the benefit of society and advancement of Abu Dhabi's cultural vision.