August 09, 2015
Al Maryah Central appoints Brookfield Multiplex as Main Contractor
Abu Dhabi, 9 August 2015: Gulf Related today announced that vertical construction on Al Maryah Central, a 2.3 million square foot super-regional shopping center located at the core of Al Maryah Island in Abu Dhabi, will commence this month. Gulf Related has selected Brookfield Multiplex as the main contractor responsible for completion of the $1.0 billion Al Maryah Central development.
The $425 million construction contract designates Brookfield Multiplex to construct Gulf Related's 2.3 million square foot regional mall. When completed Al Maryah Central will 500 store strong retail offerings, including 145 restaurants and cafés, a 20-screen cinema complex, a medical center, a crèche, a health-club, a public library, a food market as well as three rooftop parks atop the mall. Subsequent phases of the development will include residential units as well as a hotel in two high rise towers.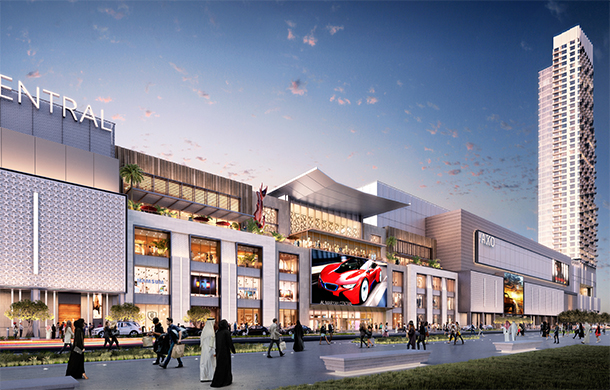 The development broke ground in November 2014 and the excavation of the Al Maryah Central site and foundation construction work has already been completed.  Brookfield Multiplex's contract covers the remaining full construction of the retail mall, with vertical construction commencing in August 2015 and full completion prior to the mall's March 2018 opening date.
Kevin Ryan, Managing Director of Real Estate Development at Gulf Related said,
"We are thrilled to reach another milestone with vertical construction commencing this month. Al Maryah Central is set to become the urban centre of Abu Dhabi providing an unrivalled retail, leisure and entertainment destination to serve the needs of Abu Dhabi's fast growing community.  A project of this ambition, size and complexity needs the technical expertise and large scale mixed-use construction experience that Brookfield Multiplex offers.  As one of the premium construction firms in the region, Brookfield Multiplex has worked on some of the most renowned structures in the GCC and internationally. We are delighted to have them lead this critical phase." 
Marcus Truscott, Managing Director of Brookfield Multiplex Middle East said,
"It is a great honor to be partnering with Gulf Related and to play such an important role in the construction of this iconic development. Al Maryah Central will transform the retail landscape in Abu Dhabi and positively shift people's perceptions of urban life in the region."
Brookfield Multiplex is an international contractor whose projects in the Middle East have included Emirates Towers and The Gate at DIFC in Dubai, as well as the Eastern Mangroves complex in Abu Dhabi.  It is well-known internationally for the rebuilding of London's Wembley Stadium and for building King Street Wharf in Sydney.