February 24, 2015
Gulf Capital partners with Emirates Foundation to support youth and education in the UAE
Gulf Capital, one of the leading and most active alternative asset managers in the Middle East, has renewed and reaffirmed its partnership with Emirates Foundation to support a number of programmes focusing on the development of UAE youth through education, entrepreneurship and knowledge transfer.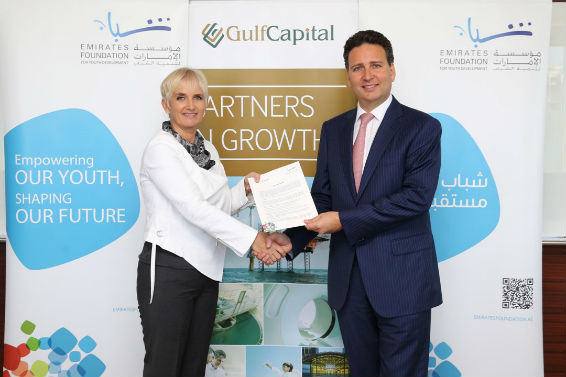 The partnership was signed by Emirates Foundation's CEO Clare Woodcraft and Gulf Capital's CEO Dr Karim El Solh, in the presence of senior officials from the two organisations.
Emirates Foundation is an independent philanthropic organisation, established by the Government of Abu Dhabi, to facilitate public-private funded initiatives to improve the welfare of people across the UAE. To achieve this, the Foundation is running six programmes (Kayani, Kafa'at, Sanid, Esref Sah, Think Science and Takatof) in three key focus areas: social inclusion; community engagement; and leadership and empowerment. Over the past eight years Emirates Foundation has built a vibrant and diversified portfolio. Through its programmes, it has empowered thousands of young people to make positive contributions to their communities.
Dr. Karim El Solh said: "Gulf Capital continues its collaboration with Emirates Foundation on meaningful initiatives, with a clear focus on the young generation of the region, using the three pillars of training, education and entrepreneurship. The work of the Foundation goes a long way towards achieving these goals and Gulf Capital is proud to be associated with such a worthy cause."
Clare Woodcraft added: "Emirates Foundation works in partnership with the private and public sectors using venture philanthropy and engagement programmes to positively and permanently impact the lives of youth. We believe in the inherent ability of youth to be the catalyst for positive change and the realisation of our nation's ambition. Partnering with Gulf Capital has helped us to inspire, empower and guide the youth of the UAE to ensure a sustainable future for the nation."
Mohanna Al Muhairi Chief Operation Officer at Emirates Foundation, said: "It is through such partnerships that Emirates Foundation is able to accomplish its vision and reach its objective. We are proud to have Gulf Capital as a committed partner year on year, which fully and truly believes in the key role the foundation plays in the lives of youth across the country."
Gulf Capital has been recognised for its continuous support at the Foundation's Event in the presence of Emirates Foundation Managing Director, H.E. Sheikh Sultan bin Tahnoon Al Nahyan, an elite group of regional and international philanthropic representatives and executives from the private and public sectors and under the patronage of HH Sheikh Abdullah Bin Zayed al Nahyan, Minister of Foreign Affairs and Chairman of Emirates Foundation.
Gulf Capital works with government authorities or non-governmental organisations such as the Emirates Foundation to enhance the Firm's ability to make a positive contribution and impact in the society. Gulf Capital deems corporate governance and business sustainability as essential to its long term goal of being the leader in alternative asset management in the region.