November 08, 2014
Emirates Post Honors REACH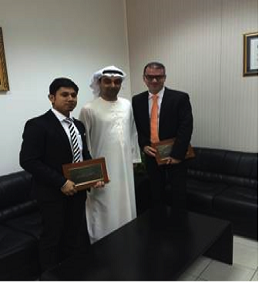 REACH has received an award from Emirates Post for its commitment to delivering outstanding recruitment services. The award was presented during a special ceremony hosted by Empost.
Emirates Post Group manages the planning of its postal operational division and subsidiaries. It constantly seeks to provide postal services and solutions that match the latest trends in global postal services, with a focus on making post offices one-stop shops that offer multiple services through a network over 115 post offices, driven by the goal of constantly raising customer satisfaction and adhering to principles of corporate social responsibility.
The award adds to a string of industry leadership recognitions that REACH has been receiving lately. We would like to thank the following team for their extraordinary customer care and support in the staffing campaign:
Mr. Maher Hussein
Mr. Mehedi Jahur
"We are honored to continue offering our services to Emirates Post since 2012. This re-affirms our commitment to providing world-class services. We aim to serve as the partner of choice to leading government and private organizations through providing innovative and proficient end to end recruitment, outsourcing and contract staffing consulting services" said Malik Melhem, CEO, REACH Employment Services.
"Our agreement with EMPOST is a major milestone and the success of this project demonstrates our commitment to innovate and deliver projects on time and within budget. We assure EMPOST of steadily high levels of service and quality," added Maher Hussein, Executive Manager,  REACH Employment Services.