September 21, 2014
Gulf Related Awards SAR 487 million Construction Contract for a Residential Compound in Saudi Arabia to Drake & Scull Construction
Gulf Related, a leading regional real estate developer, today announced that it has awarded the main construction contract of its signature residential project in Saudi Arabia, Antara, to Drake & Scull Construction (DSC), the general contracting division of Drake & Scull International (PJSC) (DSI) for SAR 487million (AED 490 million). Construction will be completed in 24 months from the awarding of the contract. Gulf Related is the development manager of Antara.
Dr. Karim El Solh, co-Managing Partner of Gulf Related, said: "Antara will be another world-class development from Gulf Related, combining luxury living with resort style family comfort for expatriates in the new heart of Riyadh. We are delighted to award the construction of this mega development to Drake & Scull Construction, which has established its credentials in the Saudi market, and we look forward to delivering an iconic landmark on Riyadh's urban landscape. The launch of the Antara residential compound should generate an attractive rental income and a significant long term cash yield for Gulf Related."
Strategically located in the growing North Western part of Riyadh on King Khalid Road, and conveniently situated ten minutes from King Abdullah Financial District and twenty minutes from King Khalid International Airport, Antara is a premium self-contained residential compound that will establish a new benchmark in quality living for expatriates in the Kingdom.
Saleh Muradweij, Managing Director of Drake & Scull Construction, commented: "The Kingdom of Saudi Arabia is DSC's biggest market in the region, where we have a long history of consistently delivering several landmark developments. Our impressive portfolio of projects in the country along with our track record of undertaking massive scale projects assured Gulf Related of our capabilities and awarded us with the contract for the Antara expatriate residential compound. The luxurious residential project is a prestigious win for DSC and will further consolidate its position in Saudi Arabia."
Emile Habib, Managing Director of Gulf Related, added: "Antara will be transformational for the new urban area of Riyadh, creating a real step-change in the urban landscape of the Capital and will serve as a model residential development for the expatriate community in and around Riyadh. Our overall aim is to develop a premium neighbourhood that offers a luxurious lifestyle for the entire family, offering easy access to essential facilities while also fostering a community spirit."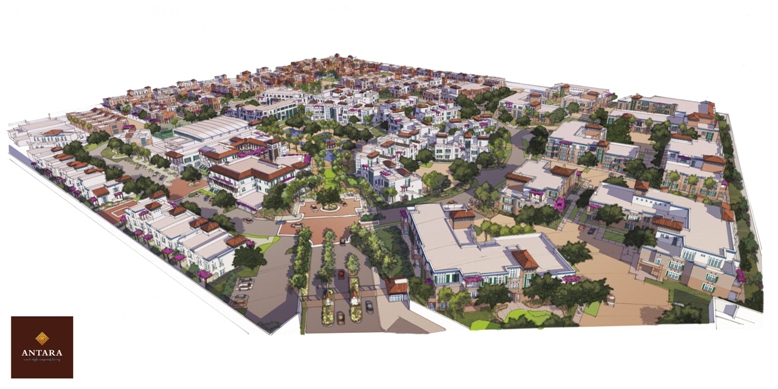 Antara was masterplanned by OTAK and world-renowned EDSA, out of Ft. Lauderdale with offices in Abu Dhabi, which also designed the landscape architecture. The building architecture and engineering was designed by Omrania & Associates out of their Riyadh and Bahrain offices.
Raja Alameddine, Executive Director, Gulf Related KSA, said: "We are delighted to be working on our first project in the Kingdom with Drake & Scull Construction. We were looking for an established contractor which will be able to offer multi-disciplinary services and expertise for this landmark project and the company came out as a best-in-class partner."
Designed in a Mediterranean- resort village style, Antara comprises a built-up area (BUA) of 98,115 square metres, consisting of 520 homes. These include 12 apartment buildings with a total of 267 apartments, 70 duplexes, 151 villas as well as 32 short stay apartments in the Village center. Full community amenities will also be provided in the 157,300 square meters development, featuring a pre-school, village market, main clubhouse, and administrative building with sports and fitness centre; tennis, basketball and volleyball courts; bowling, billiards and barber shops; library, book stores, restaurants, cafes and community lounges.
Other infrastructure facilities will consist of utility building, security gates and guardhouses, car parking, landscaping, and pedestrian paths, with 40% of the total development, or about 48,500 square meters committed to open areas, lush green landscaping, cycling tracks and children's play areas. Enabling and underground infrastructure works have already been completed.
Under the terms of the agreement, mobilisation will begin immediately and the construction will start on site in one month. DSC will complete all the Civil, Architectural, and MEP works, including Structural, and External Works for the residential and ancillary buildings on the project site.
Drake & Scull has secured AED 5.1 Billion worth of Project Awards year to date. It is currently in several high profile projects in Saudi Arabia, including the AED 3 Billion KAPSARC project, the AED 1.7 billion contract for construction and MEP works for the Lamar Towers in Jeddah, the AED 1.3 billion Jabal Omar Development in Mecca, and the AED 321 million MEP works for King Saud University in Riyadh. Within the healthcare sector, the company is undertaking the MEP works on the AED 255 million National Institute of Neurosciences, and the Cancer & Cardiac Centres in the King Fahd Medical City, Riyadh and the MEP works for the AED 170 million 400-bed hospital in Dammam.
Coverage:
Reuters
Al Bayan
Al Ittihad
Arab News
Gulf News
Khaleej Times
Construction Week