June 30, 2014
Gulf Capital Wins Golden Award of Excellence in Corporate Social Responsibility
Gulf Capital, one of the largest and most active alternative asset management firms in the Middle East, received the Golden Award of Excellence in Corporate Social Responsibility (CSR) at the prestigious fourth annual event organised by the Arab Organization for Social Responsibility.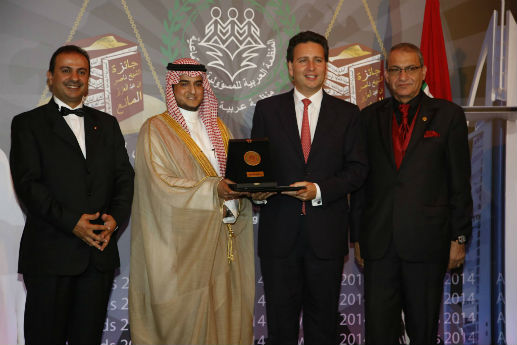 The awards evening witnessed an attendance of eminent leaders and dignitaries from the UAE, Saudi Arabia, Sudan, Libya, Kuwait, Qatar and Lebanon and was organised in cooperation with the late Sheikh Nasser Bin Abdulaziz Al-Manea Award, an Award granted by Saudi Arabia for encouraging ideas that serve education in the Arab world. The Golden Award of Excellence in corporate social responsibility was presented to Dr Karim El Solh, CEO of Gulf Capital at the ceremony held at Burj Al Arab, Dubai.
This event recognises outstanding efforts by public and private sectors organisations in the region which have created a positive impact on their communities through their proactive social responsibility programmes in the Arab World.

Receiving the Award, Dr Karim El Solh said: "We are extremely proud to be recognised with the Golden Award of Excellence in Corporate Social Responsibility. Gulf Capital has been actively focusing on youth development and supporting programmes in education, training and entrepreneurship, our three main CSR initiatives."
Winners of this year's awards included NBAD (National Bank of Abu Dhabi), DUCAB (Dubai Cable Company) and The Dubai Civil Aviation Authority from the UAE, Maaden from Saudi Arabia, Kuwait Oil Company from Kuwait, Sohar Aluminium from Oman, Vodafone from Qatar, Holdal Abou Adal Group from Lebanon.
Dr Karim El Solh concluded: "At Gulf Capital, we strive to act as a good corporate citizen, and therefore we attract and retain the best employees, investors, professional service firms, and partners. We also believe in fostering a culture of a high level of social awareness amongst our employees. As such, our social responsibility programme adopts a holistic approach, including community engagement, corporate philanthropy, personal philanthropy, good corporate governance, environmental and social risk management, internal ethics guidelines. We are extremely proud of the work our people are doing throughout the region to support our CSR initiatives focused on education, training and entrepreneurship. "
Gulf Capital works directly or indirectly with government authorities or non-governmental organisations such as the Emirates Foundation, Khalifa Fund and the Gulf Capital SME Awards to enhance the Firm's ability to make a positive contribution and impact towards the society. Gulf Capital deems corporate governance and business sustainability as essential to its long term goal of being the leader in alternative asset management in the region.