April 02, 2014
Gulf Capital-Abu Dhabi Festival Visual Arts Award 2014 recognises emerging Emirati talent at Abu Dhabi Festival 2014 Exhibition opening
Moza Obaid Khamees Al Suwaidi, a Fashion Design undergraduate from HCT Sharjah Women's College, was awarded the prestigious Gulf Capital -Abu Dhabi Festival Visual Arts Award 2014 during the official inauguration of the Abu Dhabi Festival 2014 Exhibition at Emirates Palace Gallery last night.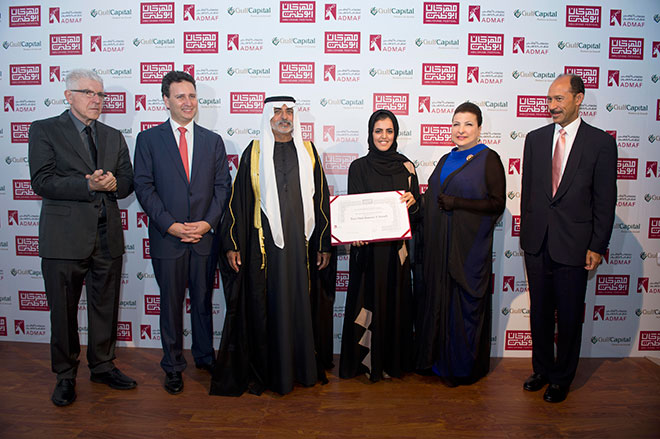 Inspired by the work of 2014 Festival artist, Bill Fontana, Moza's work is displayed alongside the ADF14 exhibition 'Bill Fontana: Acoustical Visions & Desert Soundings' until April 20th at the Emirates Palace Gallery.  
Attended by H.E. Sheikh Nahayan Mabarak Al Nahyan and H.E. Hoda I. Al Khamis-Kanoo, Founder of the Abu Dhabi Music & Arts Foundation (ADMAF) and Abu Dhabi Festival, H.E. Michale Corbin, USA Ambassador, and Dr Karim El Solh, Co-Founder and CEO of Gulf Capital, the Gulf Capital -Abu Dhabi Festival Visual Arts Award seeks to nurture talent and creativity among emerging Emirati artists and visual arts undergraduates from universities in the UAE, offering a cash prize for exceptional creativity in an original piece of work inspired by an Abu Dhabi Festival artist.