March 17, 2014
Dubai-based energy rental firm to enhance growth strategy in Africa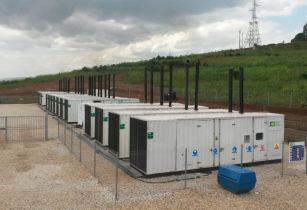 The managing director of Dubai-based energy rental firm SES Smart Energy Solutions has predicted that the company's annual turnover will top US$100mn by 2019, and will specifically focus on enhancing growth in the African market
The SES 24MW rental power plant at Kigali, Rwanda. (Image source: SES Smart Energy Solutions)
Waleed Isaac, managing director of SES Smart Energy Solutions said the company, which was established in 2007, will accelerate growth by diversifying its fuel sources.
"Providing temporary power is our core competency and we believe in our mantra of 'energy on demand'. For us, it encompasses providing not just generators but being able to provide the actual electricity anytime and any place the client demands."
The firm's clients include construction, mining and utility companies, and with much of Africa unable to supply enough power to meet the demands of its growing population, there is certainly a space in the market for a company like SES, which specialises in "bridging the gap between supply and demand".
The recently-held Investing in Africa Mining Indaba show was dominated by concerns over power shortages while, according to the World Bank, of the six to seven gigawatts of additional power needed per year to achieve universal access to electricity in Africa by 2030, around one to three gigawatts only are being installed.
Part of the demand can be met with renewable power sources, Isaac added.
"We are also looking at hybrid solutions and alternative energy. The idea is to offer customised solutions where we use our diesel power plants along with solar panels to create a hybrid solution that benefits from solar power when its available."
Dr Carlos Lopes, executive secretary of United Nations Economic Commission for Africa (UNECA), said recently that Africa was in a unique position to take advantage of clean energy, stating that the continent had the largest renewable energy potential in the world.
"Right now, the key challenge with solar is storage. We have decided to skip that bottleneck by focusing on harvesting solar energy and coupling that with a hybrid solution (diesel power plant), which allows us to reduce the cost per kilowatt hour on a long-term basis for customers," he added.