August 28, 2013
A new era of luxury shopping arrives in Abu Dhabi as The Galleria Opens on Al Maryah Island
The Galleria's unique mix of premium fashion brands and chef-driven restaurants redefine Abu Dhabi's retail landscapewith over 130 renowned retail brand outlets including 50coming to Abu Dhabi for the first time
Abu Dhabi's retail landscape is set to be redefinedby the opening of The Galleria, a new 33,000 sqm (GLA) luxury shopping and dining destination developed by Gulf Related and Mubadala. Featuring more than 100 of the world's most renowned retail outlets,The Galleria brings a new era of stylish and sophisticated shopping to the capital and the region.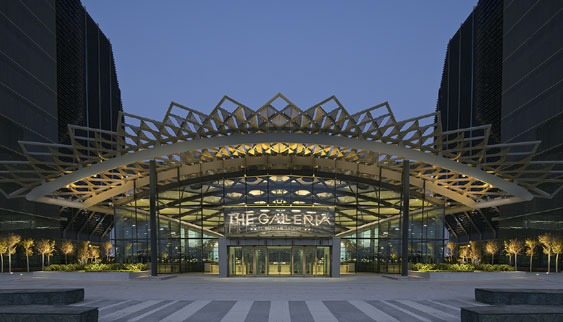 Featuring an unrivalled collection of designer labels and high-end brands, as well as the finest cuisines from some of the world's most acclaimed dining concepts, The Galleria is set to attract discerning glamour seekers as they explore the latest collections by day, and explorethe city's most happening venues by night.
Situated on Al Maryah Island, home to the capital's new Central Business District, The Galleria boasts spectacular waterfront views across the Abu Dhabi cityscape and elevates the city's retail offering with one of the highest concentrations of luxury brands in the Middle East.
Fiftybrands have chosen this new luxury destination to open their first stores in Abu Dhabi against the back-drop of a boundary pushing retail environmentthe Galleria. These include international labels such asAspinal of London, Berluti, Boucheron, Celine, Diane von Furstenberg, Jimmy Choo, Marc Jacobs, Mulberry, Paul Smith, Tory Burch,Alexander McQueen, Moschino, Thomas Pink, Pucci, BottegaVeneta, Balenciaga, Pomellato, Emporio Armani Caffe, Almaz by Momo and Magnolia Bakery.
Ali EidAlMheiri, Executive Director of Mubadala Real Estate and Infrastructure (MREI),said: "Al Maryah Island was created to be the center of business and commerce for the evolving Abu Dhabi. Major projects like The Galleria and Rosewood Abu Dhabi atSowwah Square mark the transition from a pure business zone to a fully integrated CBD. The Galleria is a best-in-class showcasewhich will raise the standards in retail across the region, and have a positive impact on life in Abu Dhabi."
Kenneth A. Himmel, Co-Managing Partner of Gulf Related, President and CEO of Related Urban, said: "The Galleria represents a unique combination of world-class architecture, interior design and superior finishes that perfectly complement the unprecedented collection of luxury retailers.  The result is a shopping and dining destination like no other in the Middle East. We are delighted to add this outstanding project to our portfolio of internationally celebrated developments and confident of its long lasting positive impact on Abu Dhabi's retail landscape that will benefit both the community and visitors. We look forward to building on the success of The Galleria with Sowwah Central which will open in 2017 and when combined, will offer over 500 retail, leisure, dining and entertainment options". 
The Galleria also offers a remarkable array of culinary diversity, catering to any craving with a range of licensed and unlicensed fine-dining restaurants that complement iconic cafes and quick service casual dining.
Culinary destinations opening on day one includeAlmaz by Momo and EmporioArmani Cafféwhich offer with breath-taking views of Abu Dhabi's skyline while an additional 11 gourmet outlets over the course of the next six months – Zuma,Biryani Pot, Bentley Bistro & Bar, Burger Fuel, Café Bateel,CafféNero, Carluccio's, Magnolia Bakery, Lemongrass,Nolu's Downtown, and Taqado.
Major retail groups such as the Chalhoub, Al Tayerand Richmont groups have all committed to The Galleria, bringing a range of iconic brands to the luxury shopping destination.
Patrick Chalhoub, Joint CEO of the Chalhoub Group, said: "The opening of The Galleria will definitely transform the retail landscape of Abu Dhabi which will now offer a distinct destination for luxury retail. The Chalhoub Group is delighted and excited to be part of this iconic project for the Capital and look forward to creating an incredible shopping experience."
Khalid Al Tayer, CEO Retail, Al Tayer Group, said: "The Galleria presents a new, world standard platform for our luxury brand partners and customers in Abu Dhabi. Coupled with its unique dining options, The Galleria perfectly complements the ambitions of the emirate to further grow into a vibrant, dynamic retail destination."
The Galleria's stunning architecture enhances the retail experience and its innovative and inspired design creates a sophisticated iconic shopping destination that captures the exclusive nature of the project.
The retail precinct connects to its neighboring leisure and commercial developments through a unique network of climate-controlled corridors including The Rosewood Abu Dhabi ultra-luxury hotel, which opened in May 2013 and offers five-star accommodation just a minute's stroll away.
"The opening of The Galleria marks a key milestone in the expansion of both Gulf Capital and Gulf Related," said Dr. Karim El Solh, CEO of Gulf Capital and Co-Managing Partner of GulfRelated. "As it raises the bar for destination dining and luxury shopping in Abu Dhabi, The Galleria is a precursor forSowwah Square's unparalleled impact on business and leisure in the capital and paves the way for an ambitious portfolio of upcoming projects."
The Galleria forms part of Phase 1 of Al Maryah Island's phased development on Sowwah Square, which is made up of four commercial towers, along with the iconic Exchange Building, Rosewood Abu Dhabi and Four Seasons Hotel Abu Dhabi. In addition, NBAD and Al Hilal Office Headquarters, Cleveland Clinic Abu Dhabi and FarGlory's mixed-use hotel, residential and office development are situated on Al Maryah Island.