July 15, 2013
Gulf Capital makes a USD 15 Million Loan Investment in Turknet
Gulf Capital, one of the leading and most active alternative investment firms in the Middle East based in Abu Dhabi, has successfully completed an investment in Turknet Iletisim Hizmetleri A.S. ("TurkNet") through "Gulf Credit Partners", its regional credit and mezzanine fund. TurkNet is a prominent provider of broadband Internet services, long distance telephony services, and corporate telecom, wholesale and hosting services in Turkey. Gulf Credit Partners, provides financing facilities to growing companies in the Middle East, North Africa and Turkey through its flagship credit and mezzanine fund.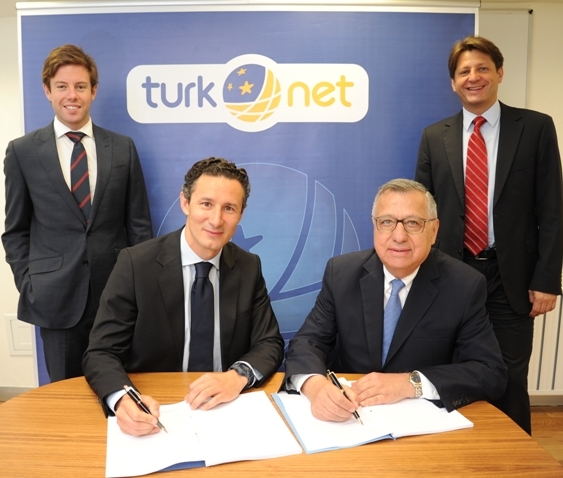 Dr. Karim El Solh, Chief Executive Officer of Gulf Capital, said: "The growth capital financing facility from Gulf Credit Partners will assist Turknet in its growth trajectory at an exciting time for the Turkish telecommunications sector. Turknet's market leadership in this growing sector, its sound strategy and strong management are the precise ingredients that our credit and mezzanine fund is looking for in a business partner."
The Telecommunications market in Turkey is emerging in a rapid manner, as the number of Internet users showed a year-on-year growth of 42.3% from 14.1m to 20.1m in 2012. The market share of alternative providers in the ADSL market has gone up to 10.8% in 2012 from 9.0% in 2011. The country is showing potential growth in the internet broadband market as Internet household penetration in Turkey is c41%, compared to c61% in Europe.
Mehmet Celebiler, the co-founder and Chairman of TurkNet said: "This institutional investment will enhance TurkNet's rate of growth. Gulf Capital has demonstrated a sound understanding of our business and has shown great flexibility in tailoring a financing solution in line with our strategic growth plans for telephony, broadband, cloud and IPTV services."
Walid Cherif, the co-head of Gulf Credit Partners stated: "We are very pleased to partner with the Celebiler family, who as highly experienced operators have successfully established and grown the TurkNet business to become a leading telecom operator in the Turkish market. We believe that TurkNet is extremely well-positioned to benefit from structural trends and the on-going liberalisation in the telecommunications industry on the back of its viable growth strategy, as well as the high caliber senior management team that is committed to continuing the implementation of best-in-class operational practices." 
Cem Celebiler, co-founder and CEO of TurkNet said: "The telecommunications market in Turkey is emerging in a very rapid manner, whilst the new regulations allow for alternative operators to increase their presence in a market where the incumbent operator has retained a significant market share. TurkNet has been well positioned to benefit from the growth in the market through its investments in infrastructure as well as in innovative services and simplified pricing offers".
Photo Caption (Sitting- Left to right): Walid Cherif, Managing Director of Gulf Credit Partners at Gulf Capital and  Mehmet Çelebiler, co-founder and Chairman of TurkNet signing the agreement.