October 08, 2012
The Galleria at Sowwah Square announces unrivalled mix of retailers to anchor luxury retail and lifestyle destination
The Galleria at Sowwah Square Introduces New Retail Brands to Abu Dhabi and Creates New Paradigm for Shopping, Dining and Entertainment on the Waterfront in Abu Dhabi's new CBD
Mubadala Real Estate & Hospitality (MREH) and Gulf Related, developers of The Galleria at Sowwah Square, today announced an unrivalled mix of retailers establishing The Galleria at Sowwah Square as Abu Dhabi's leading luxury retail destination to shop, dine, meet and unwind. The announcement represents a commitment from over 90 top global retail brands, corresponding to over 85% of the development's available retail space. Additional premium fashion and lifestyle retailers and restaurants are expected to be named in the coming months.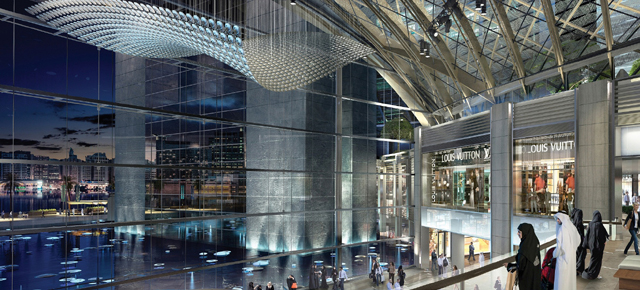 Scheduled to open in the third quarter of 2013, The Galleria at Sowwah Square will feature most of the world's iconic luxury fashion and fine jewelry brands including Louis Vuitton, Cartier, Gucci, Prada, Alexander McQueen, Aspinal of London, Balenciaga, Bottega Veneta, Brioni, Boucheron, Bulgari, Chaumet, Christian Louboutin, Dolce & Gabbana, Fred Perry, IWC, Jimmy Choo, Michael Kors, Panerai, Roger Dubuis and Van Cleef & Arpels among others.  The Galleria will also feature Abu Dhabi's first Berluti, Celine, Mulberry, Marc Jacobs, Paul Smith and Tory Burch retail locations.
Patrick Chalhoub, CEO of the Chalhoub Group, said: "The Galleria at Sowwah Square is an outstanding project in which the Chalhoub Group and its partners are fully committed and engaged to make it the most vibrant destination of Abu Dhabi, offering a unique luxury retail experience tailored to meet our customers' aspirations."
Renowned retail operators Chalhoub Group, Al Tayer Insignia and Richemont Group, owners of most of the leading prestigious luxury retail and food and beverage brands, have executed the leases with The Galleria at Sowwah Square bringing the marquee brands to the development.
Khalid Al Tayer, CEO – Retail, Al Tayer Group said: "We are pleased to be a part of The Galleria at Sowwah Square, which promises to be an exceptional retail destination. It is an exciting development that complements Al Tayer Group's commitment to excellence in service, experience and design."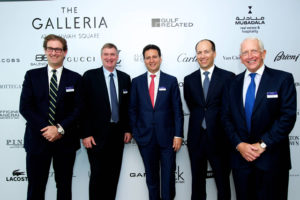 The Richemont Group is bringing some of their largest brands to the Galleria including Cartier, Van Cleef & Arples and Montblanc who have remarked: "Cartier is excited to be opening its second boutique in Abu Dhabi at the Galleria. The Galleria at Sowwah Square will undoubtedly become a preeminent luxury shopping destination in Abu Dhabi. We thank Gulf Related, Marvin Traub Associates and Mubadala for their support."  said Louis Ferla, Regional Managing Director – Cartier MEA & India.
Alban Belloir, Van Cleef & Arpels' Middle East and India Brand Director, said:  "The Galleria at Sowwah Square distinguishes itself as an iconic project, offering a one-of-a-kind shopping and dining experience. It reflects Van Cleef & Arpels's passion for beauty, elegance and style." 
Commenting on the launch of Montblanc's latest boutique, Joe Nahhas, Brand Director, Montblanc said:  "The expansion strategy for Montblanc's boutique network into exclusively high-end retail environments explains our presence in [The Galleria at] Sowwah Square.  This is a shopping and dining precinct that will become a key destination for our discerning clientele in Abu Dhabi and our latest boutique concept for Sowwah Square will offer our finest range of exclusive Limited Edition writing instruments, timepieces, fine leather goods and jewellery."
Additional brands at The Galleria at Sowwah Square will include Bimba y Lola, CH Carolina Herrera, Coach, Diesel, Hackett, Hugo Boss, La Martina, Kenzo, La Senza,Lacoste, Longchamp, Sephora, Swarovski and Vilebrequin.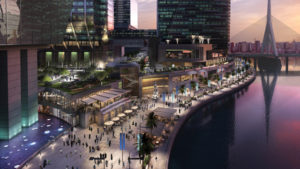 Located at the heart of Abu Dhabi's exciting new mixed-use Central Business District, The Galleria will feature something for everyone – including a prestigious mix of luxury to mid-market international and specialty retailers alongside a collection of signature licensed chef-driven restaurants and cafes, all on the waterfront.  The Galleria will introduce inspiring architecture designed by the acclaimed global architecture practices of Elkus Manfredi and Benoy. Best-in-class amenities include dedicated self and VIP valet parking service and an integrated network of climate-controlled pedestrian corridors that will provide indoor access to neighbouring residential and commercial developments. The 33,000 square meter (355,000 square foot) retail, food and beverage development is spread across two levels and features a stunning sculptural glass and steel atrium roof providing an iconic image for the new centre, all before one of the most spectacular views of Abu Dhabi's skyline.
Ali Eid AlMheiri, Executive Director of MREH said: "Sowwah Square is envisioned to be a dynamic mixed-use urban destination, with world-class hotels, premium Grade A office space and of course the headquarters of the Abu Dhabi Securities Exchange; this announcement is a significant step in realizing that vision. Nothing adds life and vibrancy to a neighbourhood like a world-class shopping and dining precinct, and this high level of delivery will complement the entire Sowwah Square development on Al Maryah Island, formerly Sowwah Island."
The Galleria at Sowwah Square will be part of a dynamic mixed-use environment that will include two 34-story luxury business hotels, Rosewood Abu Dhabi and Four Seasons Hotel Abu Dhabi at Al Maryah Island (each with approximately 200 rooms and 130 apartment units), 180,000 square meters (2million square feet) of Grade A office space and the new Headquarters of the Abu Dhabi Securities Exchange, all adjacent to Cleveland Clinic Abu Dhabi. The first of the four office towers, Al Sila Tower, is already open and occupied, with 33 tenants leasing more than 80% of the leasable area while Rosewood Abu Dhabi will be handed over at the end of 2012.
The Galleria is a joint venture (JV) between MREH and Gulf Related, a regional estate development and investment company.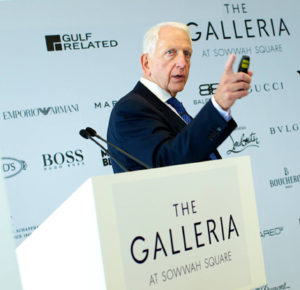 Kenneth A. Himmel, Co-Managing Partner of Gulf Related said: "We are thrilled with the response we have received from the international luxury retail and restaurant community to this unprecedented project. The initial commitments we received from the Chalhoub Group, Al Tayer Insignia and Richemont Group underscore that the market has embraced our best-in-class offering and The Galleria's position amongst the region's most prestigious retail locations.  We have created a dynamic, sophisticated and architecturally significant place for visitors to shop, eat, and enjoy the City and we look forward to opening our doors next year. "
Marvin Traub Associates, a global leader in retail consultancy, acted as Gulf Related's exclusive leasing advisor for The Galleria at Sowwah Square and is credited with the retail merchandising strategy that has assembled the roster of compelling global fashion brands. Mortimer Singer, President of Marvin Traub Associates said: "The Galleria at Sowwah Square will bring together a collection of first class global brands that rivals any shopping destination in any of the world's major capital cities. The Galleria takes luxury lifestyle retailing to the next level in the Middle East."
Karim El Solh, CEO of Gulf Capital and Co-Managing Partner of Gulf Related said: "The Galleria at Sowwah Square will deliver a unique and exciting experience to Abu Dhabi and in so doing raise the bar for destination dining and luxury retail environments in the UAE and the wider region. This first phase of retail commitments, which represent best-in-class and many first to market retailers, will ensure that The Galleria takes its place as a central location for international luxury fashion, fine jewelry and dining in the heart of the UAE's capital."
The Galleria development represents the inaugural project for Gulf Related, formed in 2009 as a partnership between Gulf Capital, one of the Middle East's leading alternative asset investment firms; and Related Companies, one of the largest private real estate development and investment firms in the United States and developers of New York's landmark Time Warner Center and soon to begin 26-acre, 1.25m sqm, 13m sqft Hudson Yards mixed-use project on Manhattan's West Side.
Mubadala was established and is owned by the Government of Abu Dhabi.  It is a catalyst for the economic diversification of the Capital and the company's strategy is built on the management of partnerships and long-term, capital-intensive investments that deliver strong financial returns and tangible social benefits for the Emirate of Abu Dhabi. A critical component of Mubadala's broader mission, MREH is responsible for overseeing projects that are part of the development plans of Abu Dhabi and that help drive the local tourism sector.