April 01, 2012
Gulf Capital Regional Credit Fund completes first transaction with a structured financing to SES FZCO
Capital Financing Deal Enhances SES' Ability to Achieve Continued Growth in Middle East, Africa and South East Asia
Gulf Credit Partners, the regional credit business which was recently launched by Gulf Capital, has successfully completed its first financing transaction for a locally based company SES FZCO (SES). SES is a leading provider of temporary and medium term energy solutions that caters to the growing need for power across the Middle East, Africa, and South East Asia region. Gulf Credit Partners provides financing facilities to Private Equity Acquisitions and growth capital for small and medium sized companies in the Middle East, North Africa and Turkey through its "Gulf Credit Opportunities Fund L.P.I." 
This first investment of US$ 25 million by Gulf Credit Partners represents a milestone, both for Gulf Capital and the industry, at a time when credit for SMEs from traditional financing institutions and banks is tough, tight, and sometimes even non-existent.
The growth capital financing facility from Gulf Credit Partners provides a substantial growth capital to SES, which will be used to further capitalise on strengthening its market position and expanding its operating footprint in existing and new strategic markets.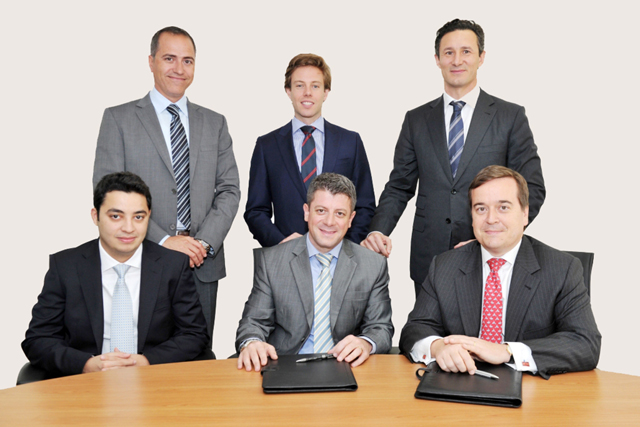 Walid Cherif, the co-head of Gulf Credit Partners stated: "This first transaction for the Fund represents our strategy to support leading companies with solid track records and strong growth prospects. Mezzanine and structured debt presents a degree of flexibility generally unavailable in the region, which is both timely and extremely valuable to our clients.  It also provides an alternative form of financing in a variety of situations, including private equity acquisitions as well as company loans, as in the case of SES."
Waleed Isaac, co-founder of SES, said: "We are thrilled to have such a significant support from 'Gulf Credit Partners', which proved during the negotiation process to be an outstanding organisation with a clear vision and leadership in mezzanine and structured credit financing in the region. The Fund has shown its confidence in our company by providing flexible growth capital, a form of financing that remains rare in our markets. Not only will Gulf Credit Partners' financial support provide the means for us to achieve our growth targets, but also, as a long term financier, it will play a role in attracting more institutional investors and lenders to finance our continued growth."
Christopher Baines, co-head of Gulf Credit Partners, indicated: "This transaction is in line with our overall strategy to finance companies in rapidly growing and defensive industries. The energy sector possesses tremendous growth potential, and we are delighted to be associated with SES, a strong and credible provider of power generation solutions."
He further added: "SES is well positioned to provide much needed power supply to an industry that suffers from a structural demand supply imbalance. Our Fund is off to a very positive start with a solid pipeline of transactions in healthcare, education, consumer services, and oil & gas servicing. We feel very confident that we can deliver attractive risk-adjusted returns to the investors in our ground breaking credit fund."
Mr Ghassan Ayoub, co-founder of SES, concluded: "We are impressed with the speed of execution of the financing package provided in a timely manner to finance the expansion of our fleet of generators. Our company will benefit tremendously from the flexibility provided by the Gulf Credit Partners team, which shows how important it is to partner with long term lenders who understand your business and believe in your growth plans."
About Gulf Capital
Gulf Capital is a leading alternative investment company focused primarily on investing capital in the GCC region. Incorporated in Abu Dhabi in 2006 as a Private Joint Stock Company, Gulf Capital was established with a capital base of AED 1.225 billion (USD 330 million) from 300 of the most prestigious institutional and individual investors in the Gulf.  The Firm is currently investing its $533 million GC Equity Fund II, raised from regional and global investors. It is focused on acquiring sizeable and controlling stakes in highly profitable and rapidly growing companies within a select number of fast-growing industries in the GCC region. Gulf Capital was awarded the "Best Private Equity in the Middle East" Award by Banker Magazine in 2011. Gulf Capital expanded its alternative asset management platform by entering into the real estate development arena in a joint-venture with the Related Companies, the most prominent US real estate developer, to form Gulf Related. The Firm also recently announced the launch of a Credit and Mezzanine Business to meet the financing needs of fast growing companies across the region. With its private equity, real estate and credit initiatives, Gulf Capital is today one of the largest alternative asset managers in the Middle East. For more information about Gulf Capital, please visit www.gulfcapital.com.
About Gulf Credit Partners and Gulf Credit Opportunities Fund L.P. I
"Gulf Credit Partners" is the credit business of Gulf Capital, which has launched its first  regional fund, "Gulf Credit Opportunities Fund L.P. I." The Fund is the flagship credit fund which provides innovative financing solutions to companies and private equity firms operating in the target region of the Middle East, North Africa and Turkey. It also offers much needed flexibility in situations that range from growth capital, refinancing, acquisition financing, recapitalizations and leveraged buyouts. The flagship "Credit Opportunities Fund L.P. I" is a forerunner in regional credit markets, and strengthens Gulf Capital's position as an overall leader in the regional alternative investment management space. 
About SES FZCO (SES)
SES is headquartered in Jebel Ali free zone, Dubai, UAE and was founded in 2006 as a result of a carve-out of the Middle Eastern assets of GE Energy Rentals. SES's founders were the current senior management led by Mr. Walid Isaac and Mr. Ghassan Ayoub who partnered with a specialized group of companies to form the business. The Company operates through 2 major lines of business, Power Projects and Flow. The Power Projects business specializes in the rapid deployment of turnkey power generation solutions coupled with comprehensive operation and maintenance services and ultimately the sale of reliable and efficient power to utilities, governments, armed forces, oil companies and mines. The Flow business specializes on the rental of lower capacity power generation equipment.  SES currently operates in the UAE, Saudi Arabia, Qatar, Yemen, Oman, and Tanzania.